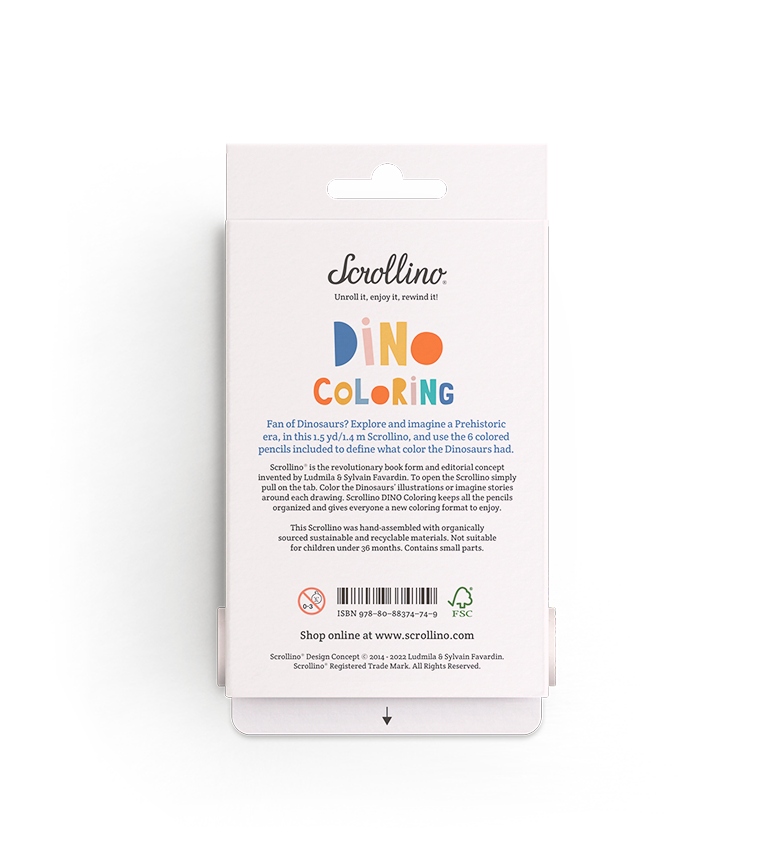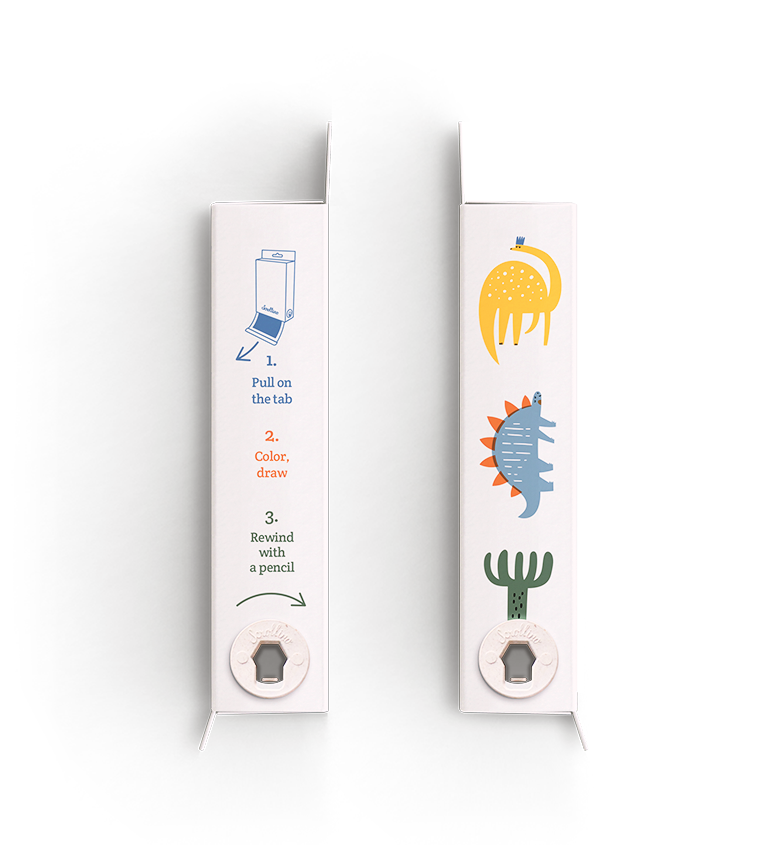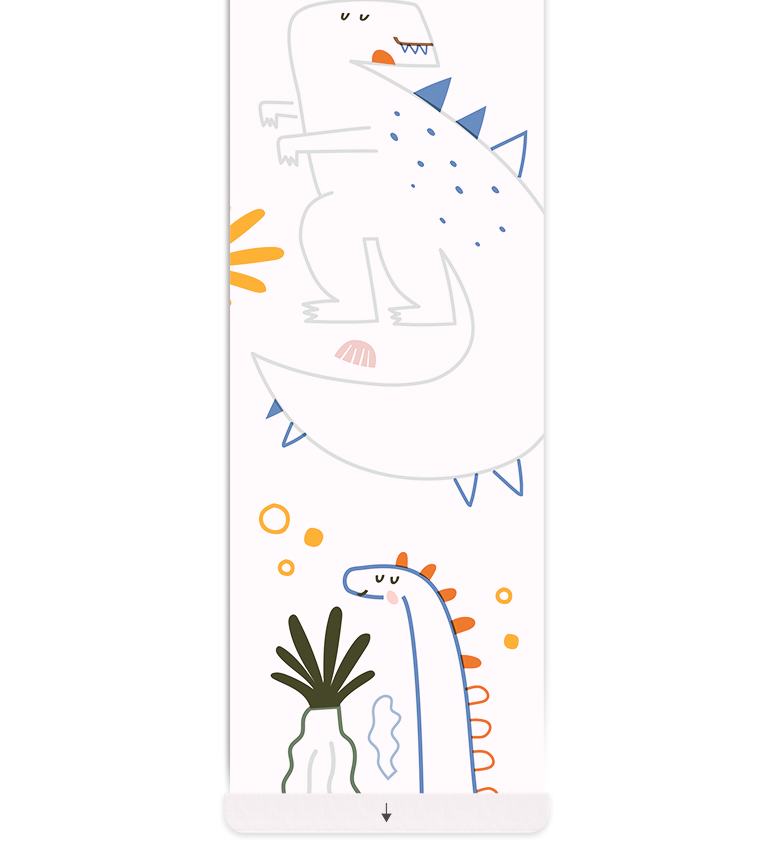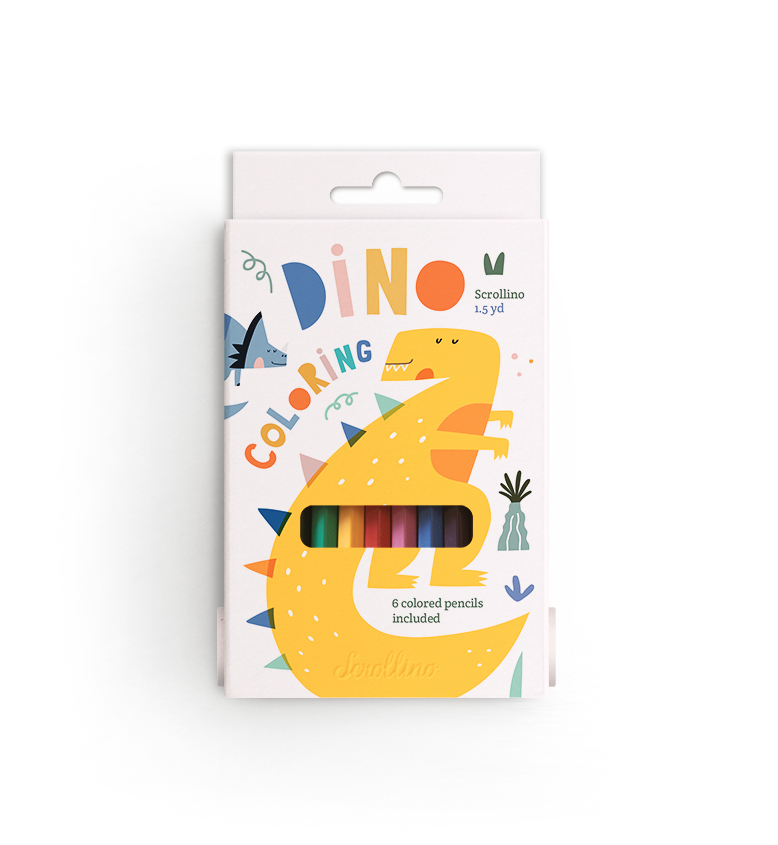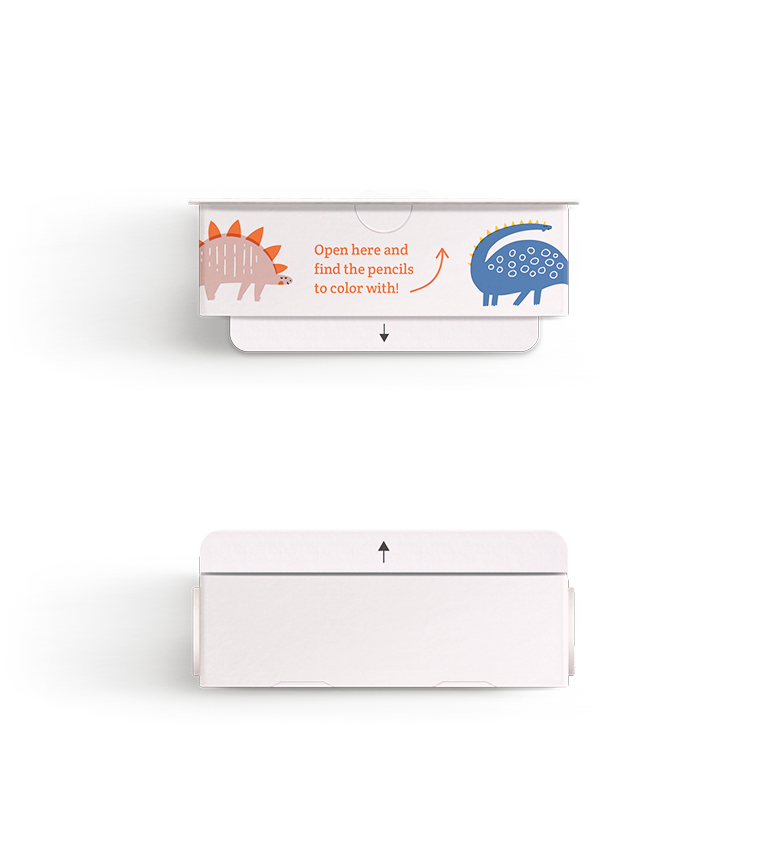 Ludmila & Sylvain Favardin
Concept and design
Scrollino® DINO Coloring is part of our stationery collection. Fan of Dinosaurs? Explore this Prehistoric era and use the 6 colored pencils to define what color the Dinosaurs had. Check out Scrollino DINO Coloring and color in 1.5 yards worth of fun times.
Materials
Organic, 100% Compostable
ISBN
Publication
Length
Accessories
6 Colored Pencils included
For
Develops Fine
Motor Skills
No Screen Time,
Better Sleep!
Universal
Rewinding System
Scrollino®
Interactive & eco-friendly
Scrollino is not only exciting, fun, and inspiring, it is also fully recyclable and compostable as we use high-quality organic materials. The box is made of FSC certified, natural feel acid-free heavyweight paper 130lb / 350gsm, for the rolls we use a custom-made paper perfect to be recycled, the Scrollers are molded from recycled wood, and our pencils are made of natural wood.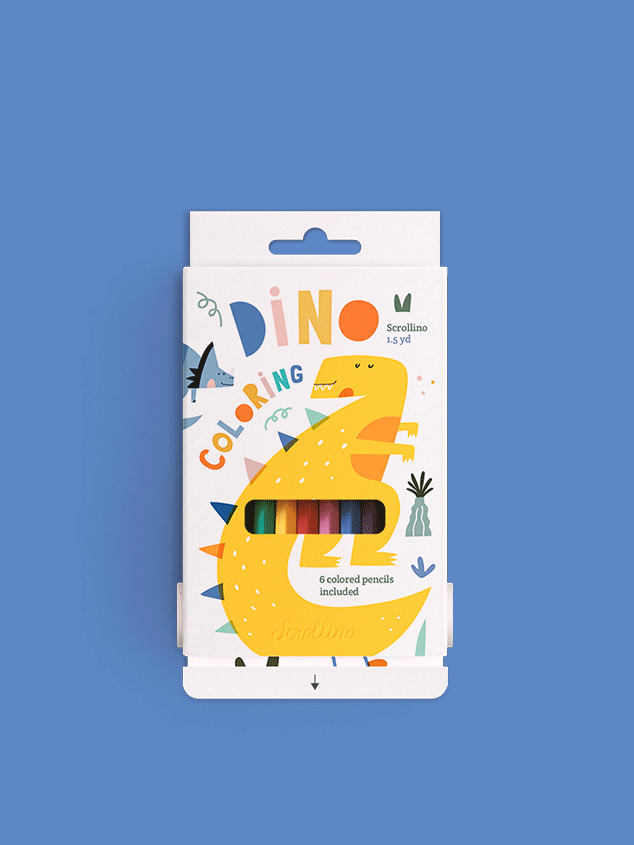 1. Pull on the tab
Make yourself ready to unwind
Scrollino® consists of a unique rewinding mechanism (The Scroller), a Scrollino box, and a paper roll to unwind at your own pace. To open the Scrollino simply pull on the tab (Paper Lip) to reveal the activities. The Paper Lip not only protects the paper roll, it also serves to prevent the paper from disappearing once you rewind your Scrollino.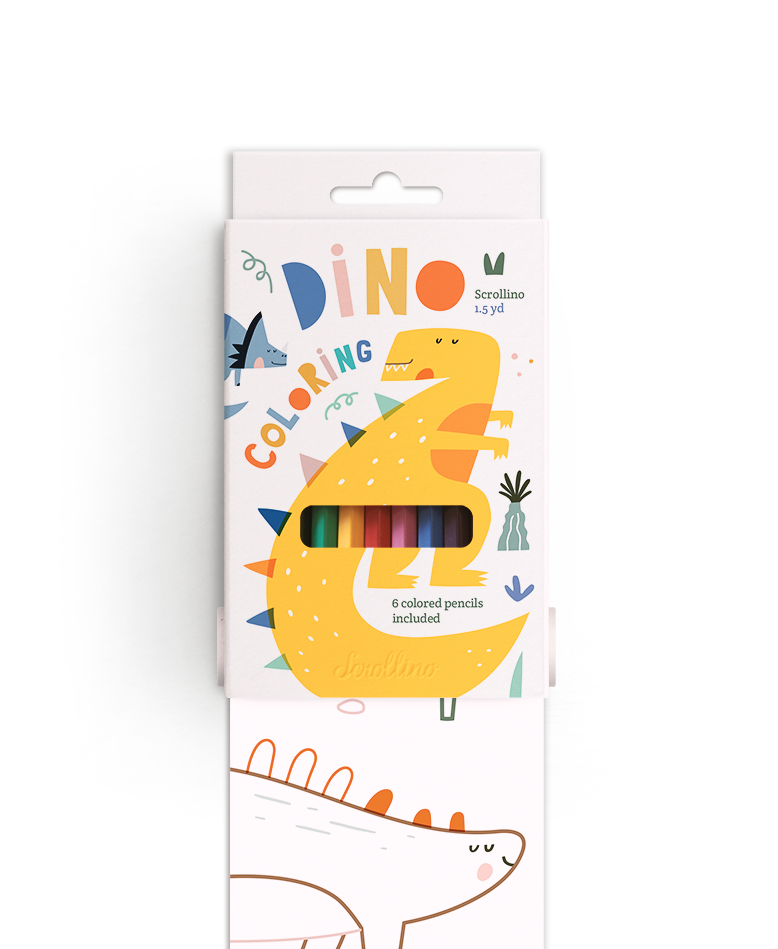 2. Color Your own Scrollino
1.5 yards / 1.4 meters of coloring fun
Try out our Scrollino DINO Coloring with beautiful and fun illustrations to color and draw on. Scrollino Coloring keeps all the pencils organized and gives everyone a new coloring format to enjoy. Unroll it all and let your imagination stretch farther than ever before!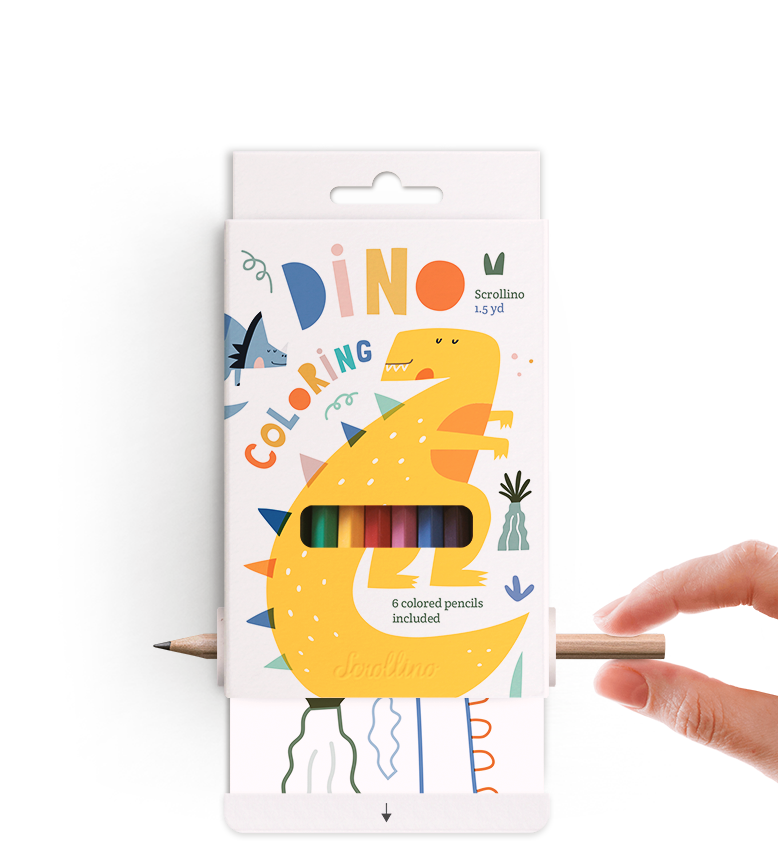 3. Rewind with a pencil
6 Color Pencils included
Now, turn the pencil clockwise to rewind. Want to keep coloring? No problem! The paper roll is very easy to replace with our refill rolls. That way, you can keep on drawing and coloring and letting your imagination run wild. Choose from our refills here.
What they
say about
Scrollino


Amazing!
Love the project and the quality of the product!
Kids and families are loving it!

Cristina - Barcelona, Spain



Genius!
Such a smart travel toy/stocking stuffer.
These have sold so well so far!

Francesca - Asheville, US


Amazing Quality, Super unique!
I absolutely love these products and my customers do as well.
Part of the shipment arrived damaged due to Fed Ex, Scrollino
was AMAZING and a replacement showed up before I knew it.
Thank you so much and I will be ordering again!

Melissa - Bellevue, US

Since I discovered Scrollino I want to have it in our store.
I think it's a wonderful idea, creative, well done,
respectful of the environment, aesthetically beautiful...
What more could you ask for?

Juanita - Madrid, Spain

Amazing concept!
Oh these are just brilliant. So happy I came across this brand - the friendliest team behind it and the product is fantastic - never seen anything like it before! Very unique. Really happy, thank you.

Jen - Hertfordshire, UK

Terrific!
I love Scrollino and the creative ideas of the creative duo.
The presentation is absolutely in line with the final product,
I made two orders a month later!

Letizia - Bologna, Italy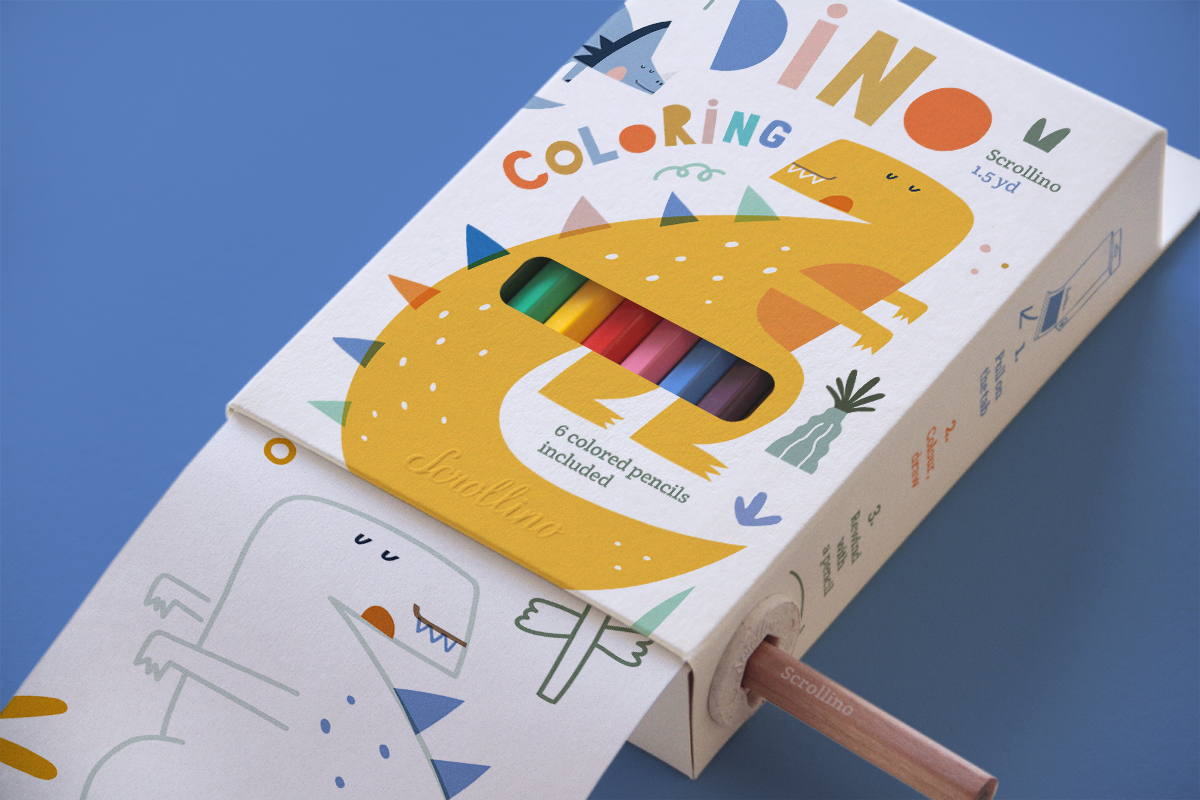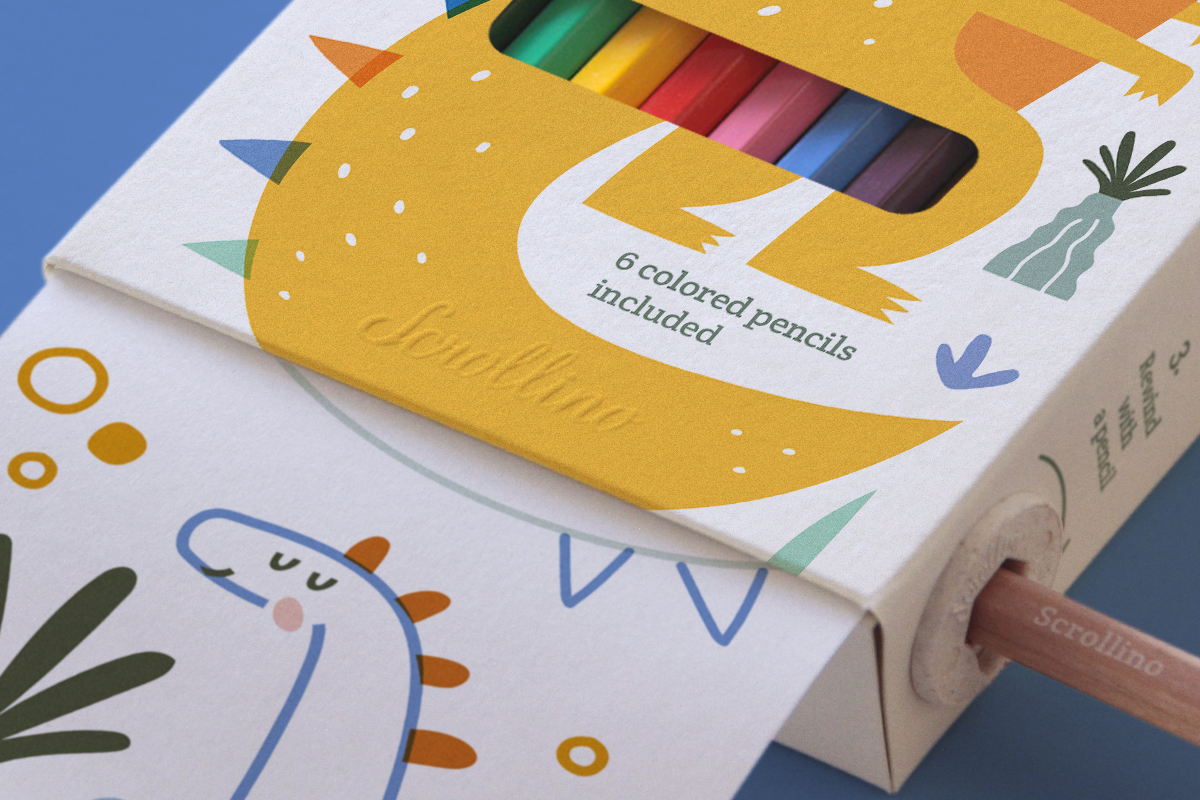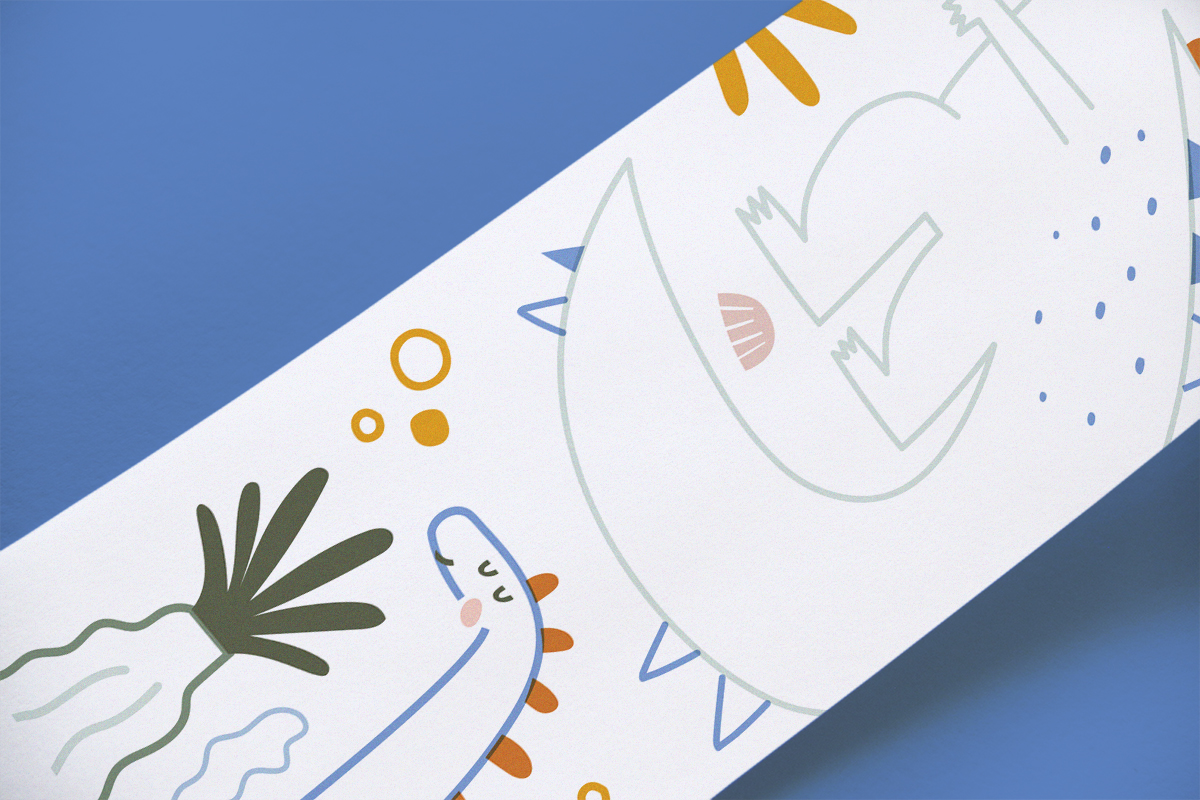 Scrollino
DINO Coloring
Fun designs to color and draw on
Fan of Dinosaurs? Explore and imagine a Prehistoric era, in this 1.5 yd/1.4 m Scrollino, and use the 6 colored pencils included to define what color the Dinosaurs had. This Scrollino offers everything you need in a handy box: fun designs to color, complete, and draw on as well as easy pencil storage in the upper part of the box. Get also our set of 3 Scrollino-compatible paper refills for an endless coloring joy.
Treat the kids to a fun Easter with this Scrollino coloring filled with cute Easter-themed illustrations, perfect for egg hunt season!