Now available in English, French and more!

Aussi disponibles en Français !

FREE Shipping in EU on orders over €50!

Livraison EU GRATUITE dès 50 € d'achat !

Interactive, Fun and Eco-friendly!

Nouveau format de lecture éco-responsable !

Develop Imagination & Fine Motor Skills

Développe l'imagination et la motricité fine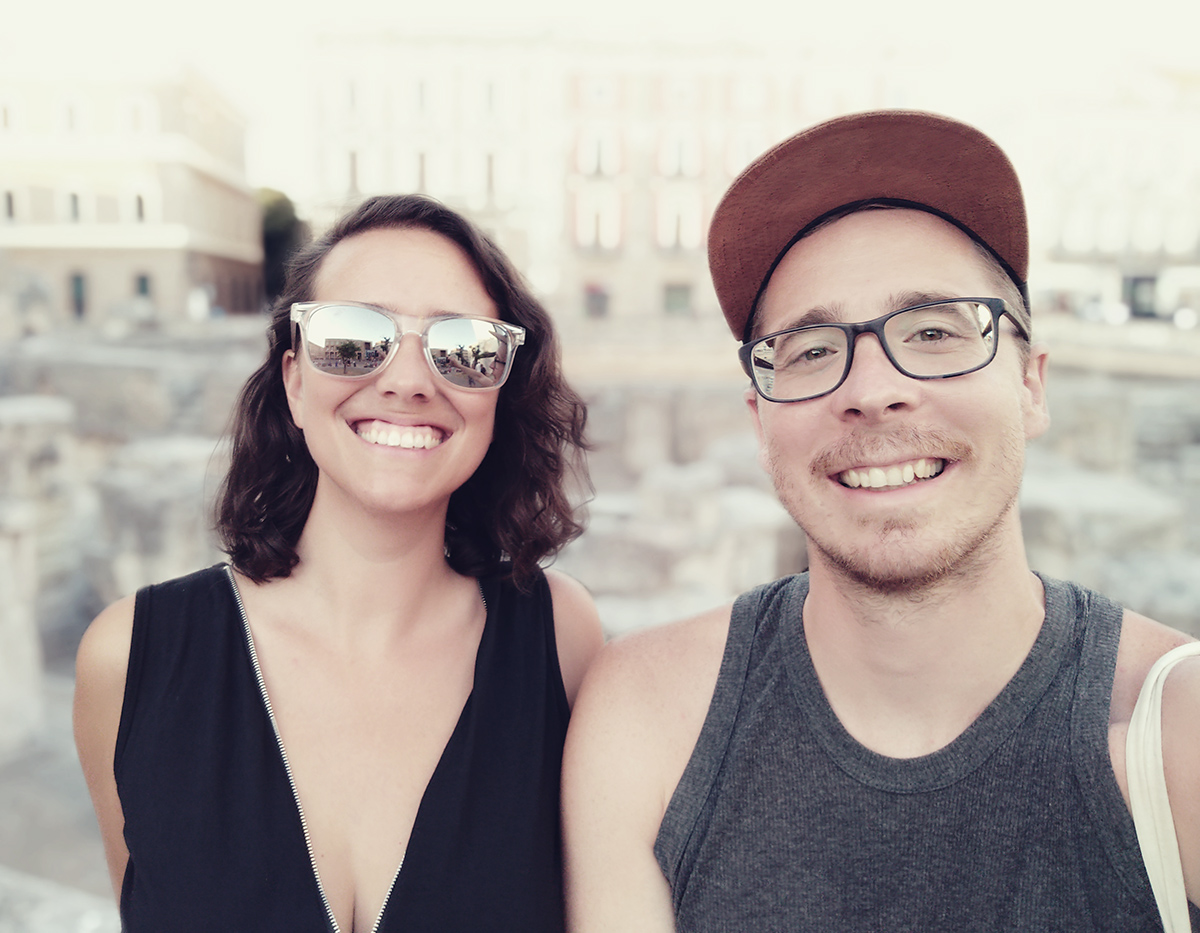 Ludmila & Sylvain Favardin
The Inventors of Scrollino®
We have officially pre-launched the Scrollino in June 2016 during our first Scrollino exhibition at the famous le lieu unique in Nantes, France. Nowadays, Scrollino is available in 23+ countries and counting. However, the story of the Scrollino's invention goes back much further. In 2011 we founded Edition Lidu – an independent art publishing platform and started to work with artists and designers all over the world.
We always challenged ourselves to bring new interesting ways of reading and we focused on the natural interactivity while organizing exhibitions, workshops and conferences. The Scrollino adventure begins in fact in 2013, when we started to experiment with thermal POS Printers to print and publish illustrated books. The printed results were so nice and exciting. We did not wait too long to develop our own printing software to use the thermal printers usually used in supermarkets.
In 2014 we published a collection of Pocket Comic Books (Edition Lidu, 2014), each several yards/meters long. The great feedback from people motivated us to create a better design to unroll and rewind these very long books. After 3 years of experiments, designing and development, Scrollino was finally born in France on March 2016 (still as a prototype). Our first Scrollino presentation in public took place during the art battle Catch d'écriture in Nantes on 12 May 2016.
Later on, we have set out for the Scrollino International Launch Tour with the first stop in Brussels in September 2016, and traveled to many places to show the creative possibilities of Scrollino. The international launch took place in Italy for the occasion of the prestigious Milano Design Week 2017. Since then we continue to improve each detail to bring you an exciting experience with Scrollino. Below, we have selected the most important moments of our creative journey, that we would love to share with you.
POS Printers X Original Books
September 2013 / First Experiments
The Scrollino adventure begins in 2013 in Prague, when we started to experiment with thermal POS (point of sales) Printers to print and publish several yards (meters) long comics and illustrated books. We modified the printer and created our own printing software to be able to do so.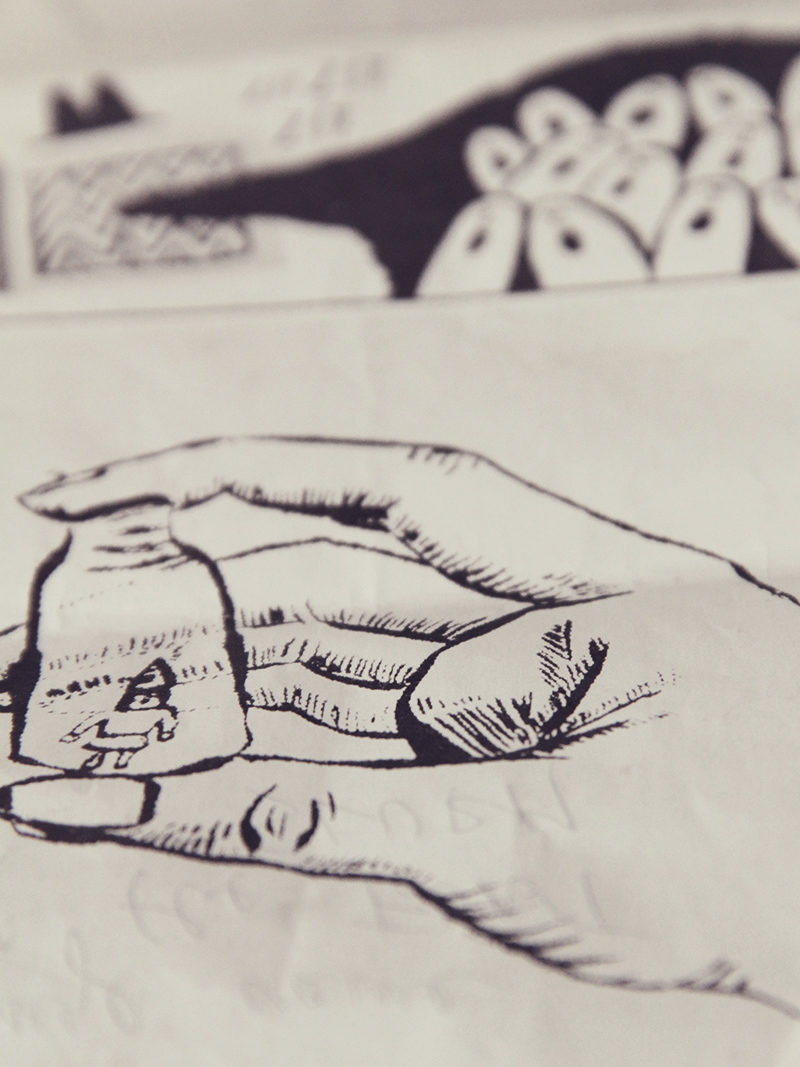 The first illustrated receipts
Printed in September 2013
When we saw the printed result with the illustration on the receipt, we knew, we needed to do something artistic with this technique. The result was so nice, that it pushed us to go forward. As the thermal papers for receipts are delivered in rolls, the idea of printing long comic books presented itself to us.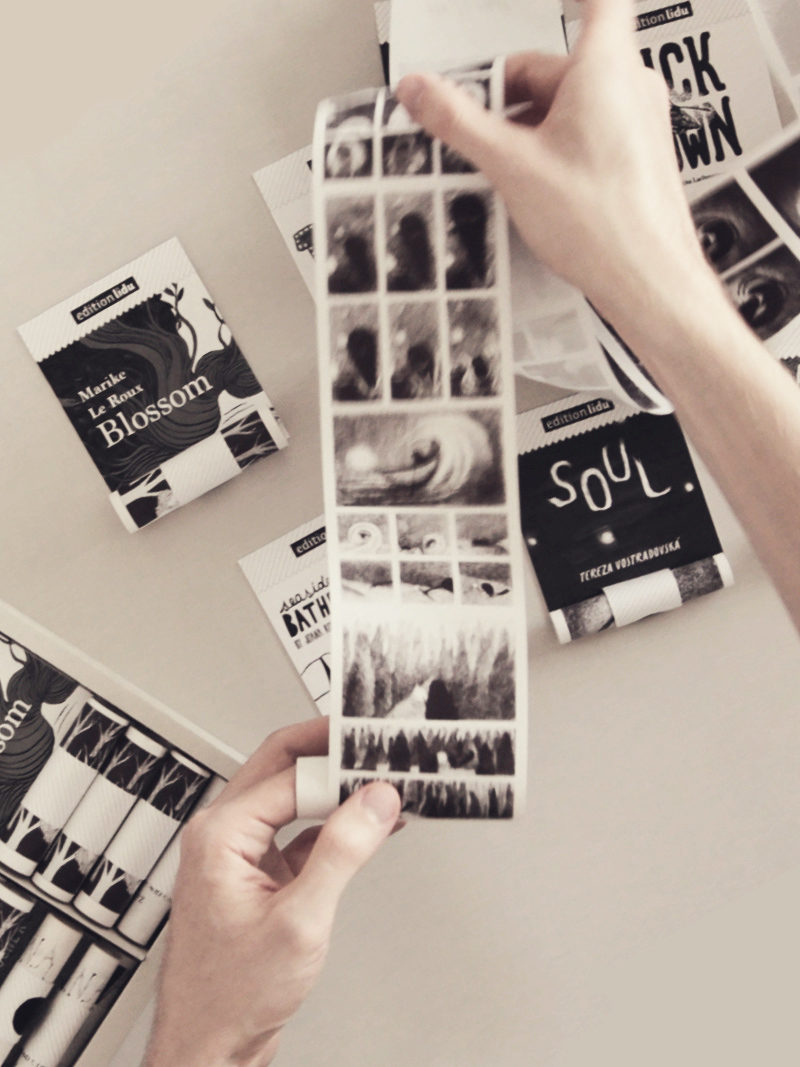 Pocket Comic Books Collection
Released in April 2014
After few months of work, we have released the black and white Pocket Comic Books collection (Edition Lidu, 2014), representing the first books (with images) ever published using the POS printers. We launched our revolutionary concept during the Milano Design Week in Italy (2014).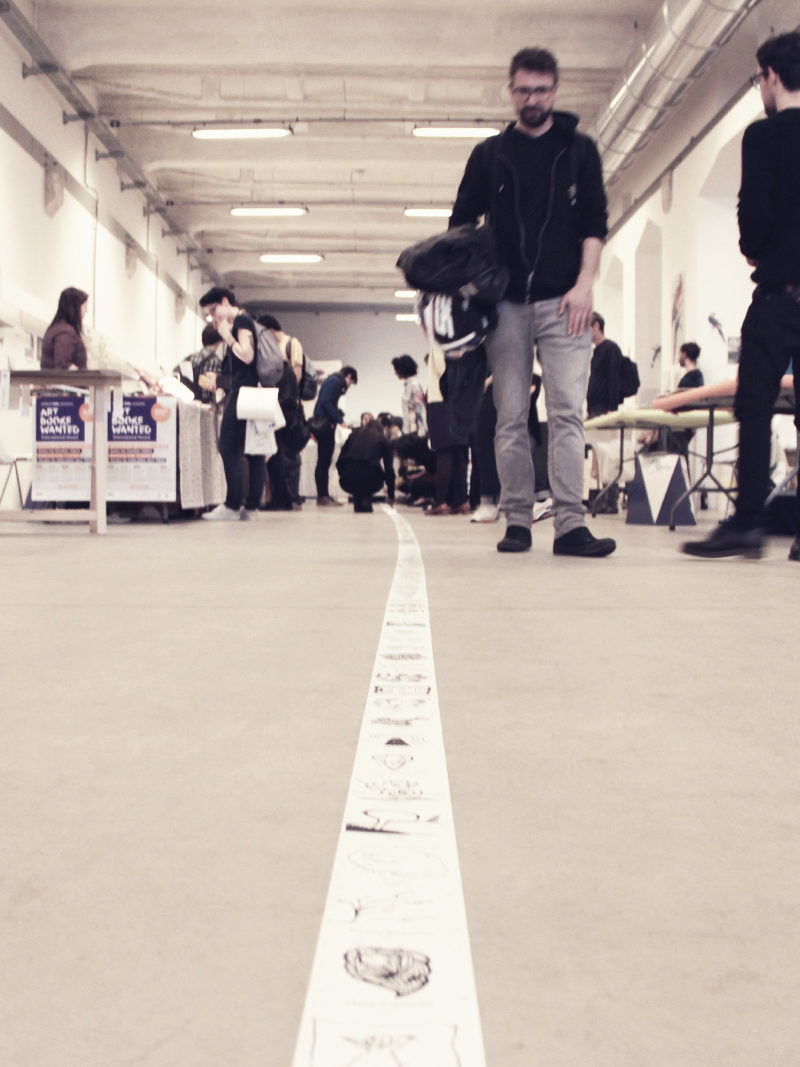 Live Publishing Performance
Milano Design Week, April 2014
Our special printing software and the fact that thermal POS printers use NO INK to print gave us endless possibilities. So for the occasion of our exhibition in Milano we organized a workshop and live printing and publishing performance: The World's Longest Live Printed Book co-created by the visitors of the fair (by that time the book was around 15 meters long).
A new technique for printing Books
No ink used, Unlimited length
While experimenting with the thermal POS printers, the idea to create and print almost infinite books came quickly into our mind. In April 2014 we released our Pocket Comic Books collection and launched our unique concept at one of the world's most important design event the Milano Design Week (Italy). The collection consisted of 6 comic books published in limited edition of 100 copies of each title. You can read our interview with Ludmila & Sylvain, to find out more about the creation of their own printing devices.
The Creation of the Rewinding System
Making of the Rewinding system
Interactive, Fun & User-friendly
We were playing with the idea to improve the concept and the way how you rewind the books since the very beginning. In the following years, we have presented our concept in book fairs, conferences and workshops around Europe. Encouraged by the feedback from visitors we challenged ourselves to go further.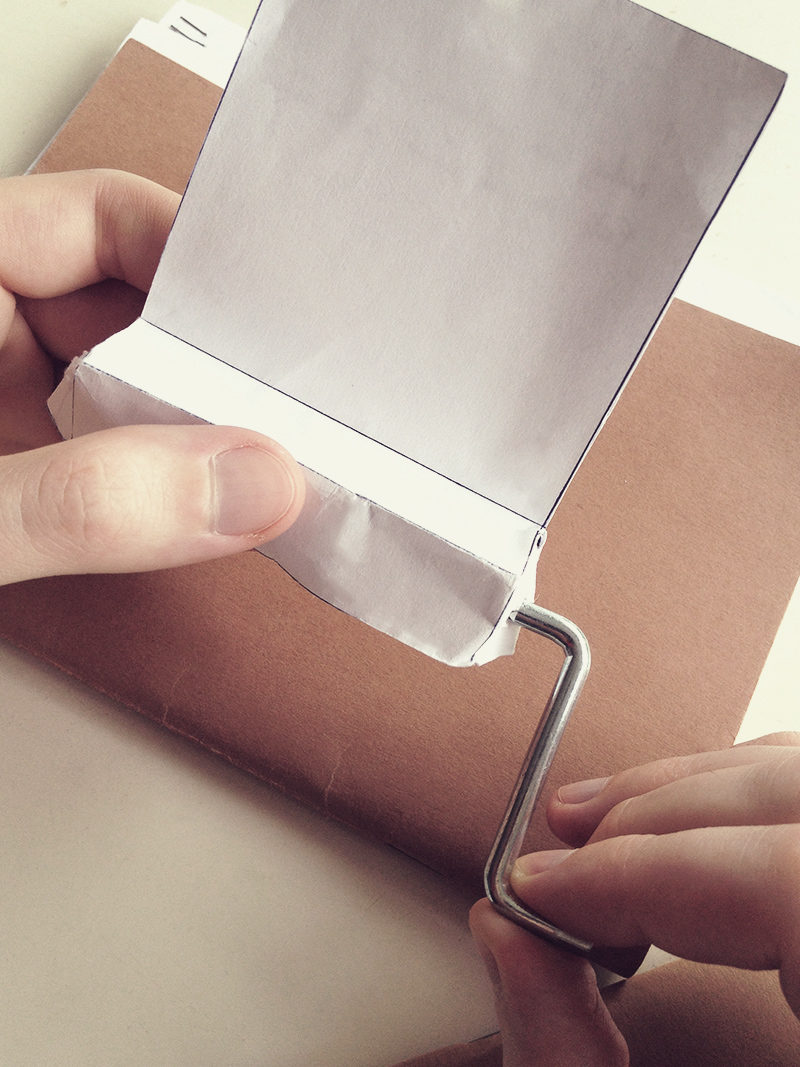 New research and first ideas
Since January 2016
Obviously, the first concept of Pocket Comic Books was innovative and playful, but not user-friendly for everyone. Finding a new design wasn't so easy, so we kept it aside for some time. At the beginning of 2016, we started with the prototyping of the rewinding system. Main goals: create a beautiful object, use sustainable materials and make it more easy to rewind.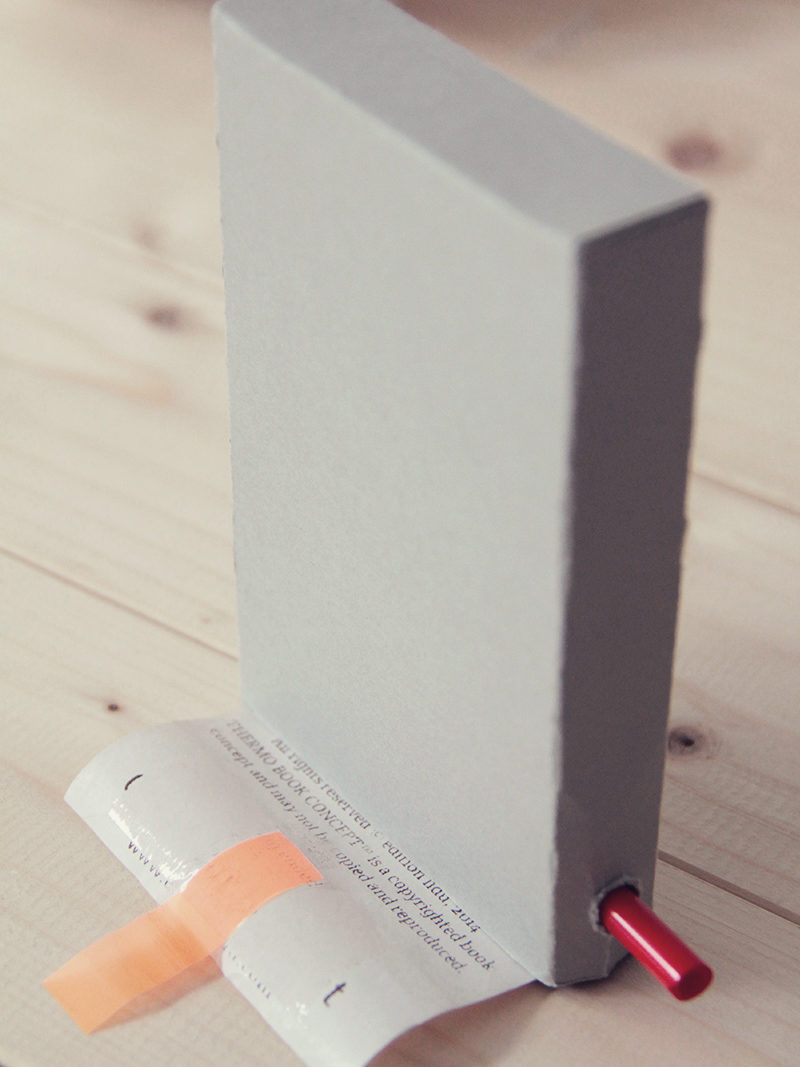 First Breakthrough Idea
February 2016
At first, we thought of using something already existing to rewind the paper. However, nothing matched our needs. We tried out many ideas, materials, and possibilities that led to the prototype on the photo above. It presented a breakthrough in our research: The rewinding system inside of a solid cardstock box using a simple tool or object to rewind the story.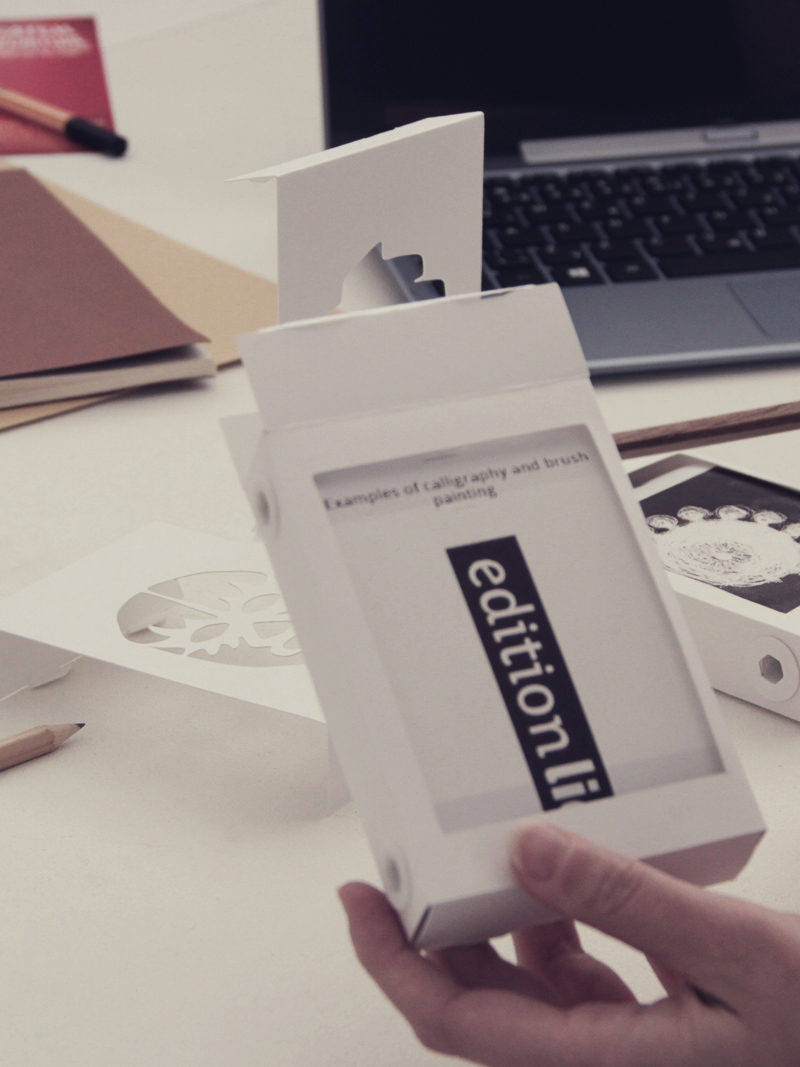 Prototypes of Scrollino®
March 2016 / Rewinding with a pencil
We knew we were very close to finding the right shape for our new book concept. And there the genius idea came to our mind, we will rewind it with a pencil, as it is an object that everybody can find at home and it is a tool that brings ideas to life. After a very intense designing process, we came up with 2 functional prototypes and 2 concepts: Scrollino® and Double Scrollino® with the Scroller (the rewinding system) made of heavyweight paper.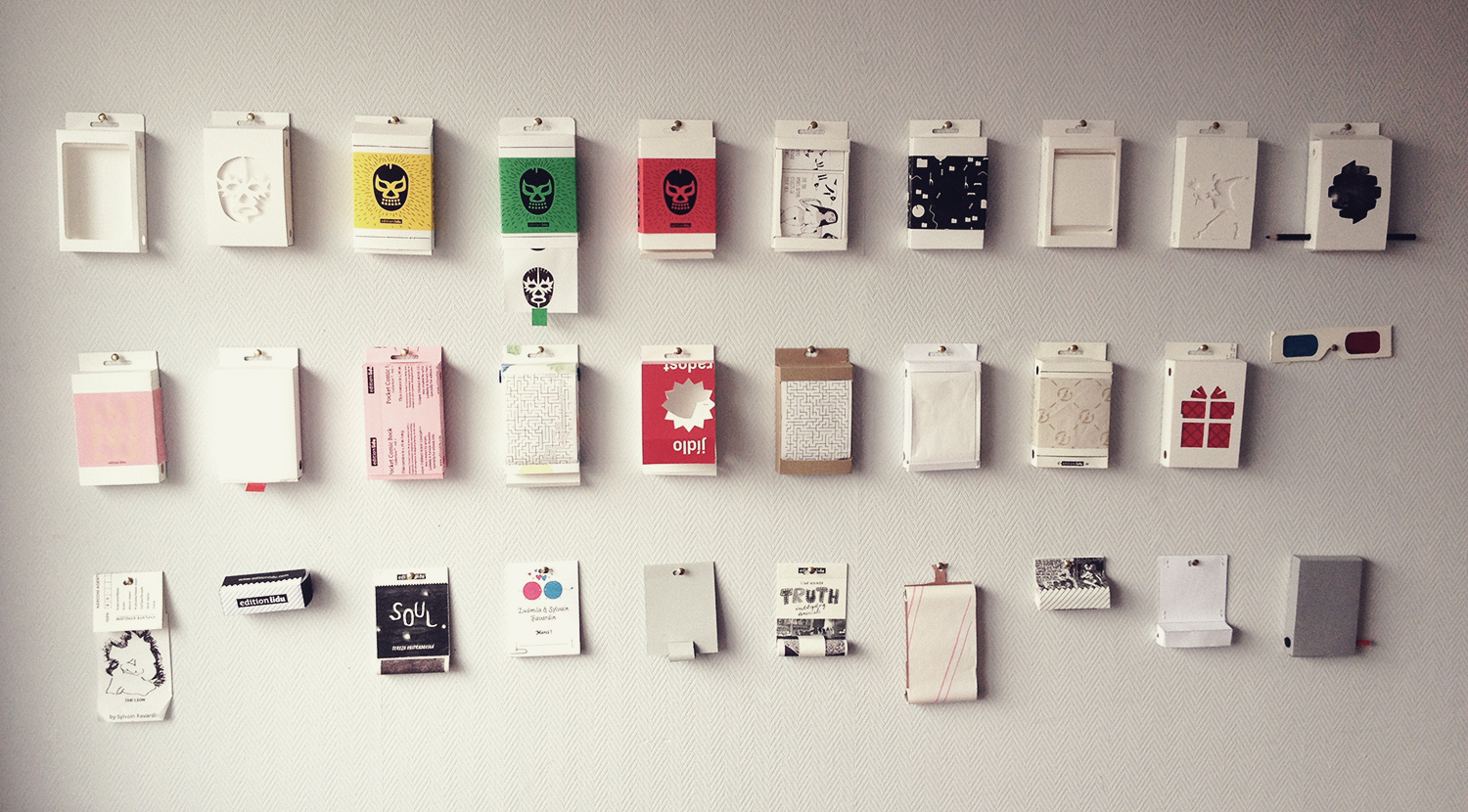 Evolution of Scrollino®
On the photo, you can see some of the many tests and prototypes we created to find the best functional design for Scrollino®.
Scrollino®
Goes Public
Our first public event introducing Scrollino® took place during the art battle night Catch d'écriture in Nantes on 12 May 2016. Few months ahead we were asked to create a tailored interface, screening and live publishing performance for this event using our thermal POS printing technique and concept. We worked faster than the speed of light to make our new design ready. Only a few days before the event we finally came up with the name for our invention and registered the word Scrollino as an international trademark to make it official.
The Invention of the Scroller
The Scroller is the unique specially designed rewinding system that makes the Scrollino alive. Each Scroller consists of 1 tube and 2 caps with very precise measurements to achieve a smooth paper scrolling and a unique reading experience. To find the right shape and functionality of the Scroller was the most challenging part of our designing process. Now it looks like it existed for ages, it works so well, so you may not realize that it actually was a long run to conceive it and to produce it in the shape you know now. You may wonder, why it was so difficult to make it happen?
First of all, we only wanted to use eco-friendly but solid materials to produce the Scroller. We kept in mind that sustainable solution will be more expensive and harder to find in Europe (where we are actually based) but to act responsibly towards our environment was and still is one of our primary goals. We thought it would be a great idea if it is compatible with most pencils and pen profiles and also that it could be easily refillable with blank papers to write on for example. You see? At first it seemed like many nice ideas that are not so easy to combine in the real life. But we kept digging.
The Invention of the Scroller
Compatible with a regular pencil
To find the right shape and functionality of the Scroller was the most challenging part of our designing process. From the beginning, we set the goals pretty high: It must be produced from sustainable materials (ideally from recycled materials) and of course, it must turn smoothly and it should feel like magic when you interact with it.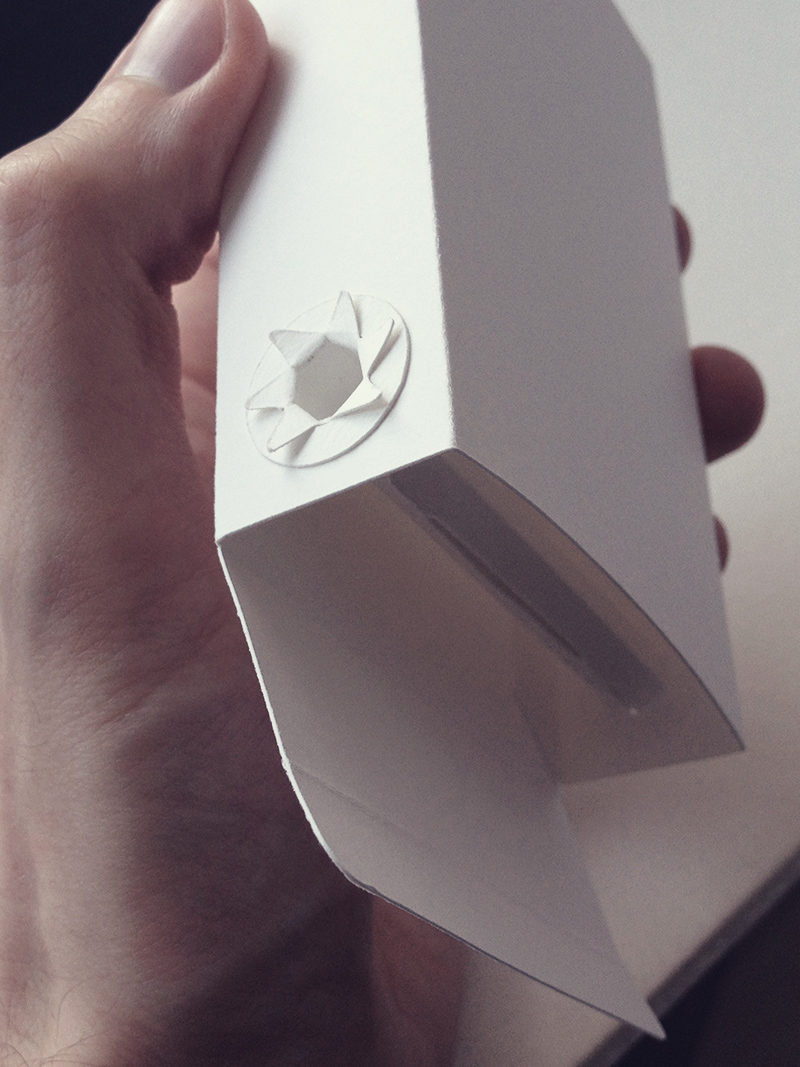 The Scroller Made of Paper
March 2016
At first, we designed the Scroller to be entirely made of heavyweight paper, using our small cutting machine to produce the Scrollino® Box and the paper Scroller. These Scrollers worked, however, they were not solid enough and were very complicated to assemble by hand.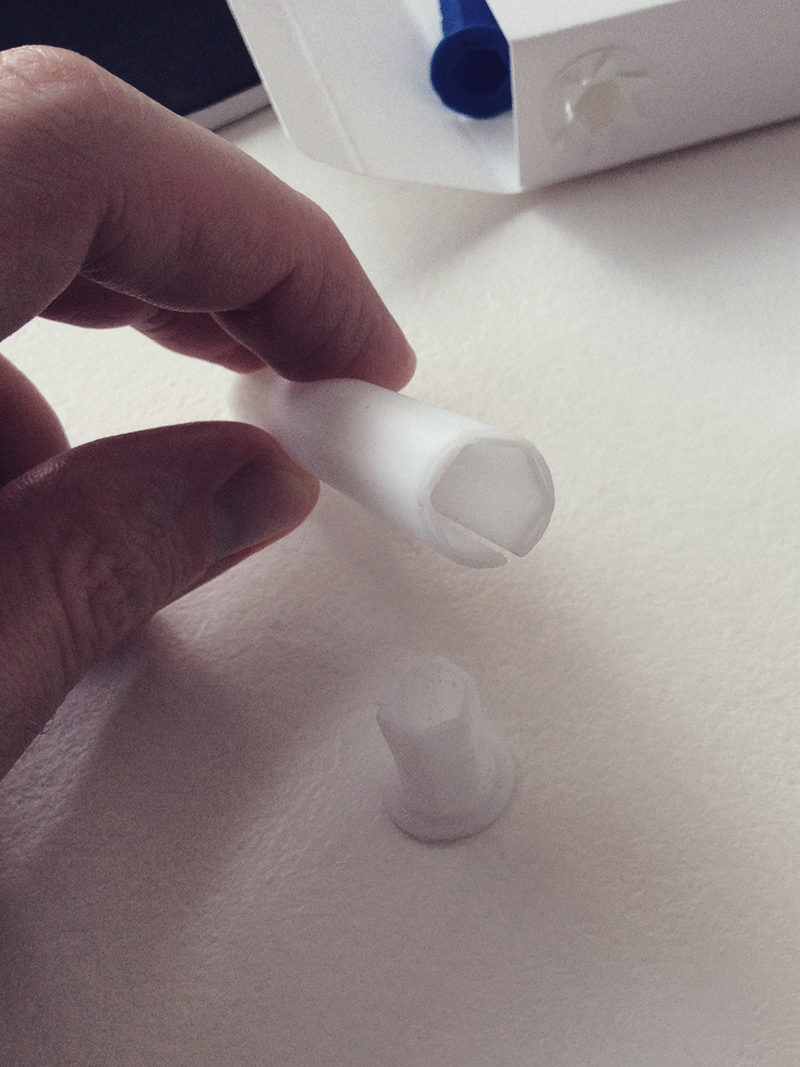 3D printed Scrollers
April 2016
The next step was to redesign the Scroller using a 3D printer. The material used was the PLA which is a biodegradable thermoplastic, made from renewable resources like corn starch or sugarcane, however after hundreds of tests, we were still not convinced by the results. The shape of the Scrollers was not precise enough, so the pencil did not fit every time, and it took ages to produce just dozens of them.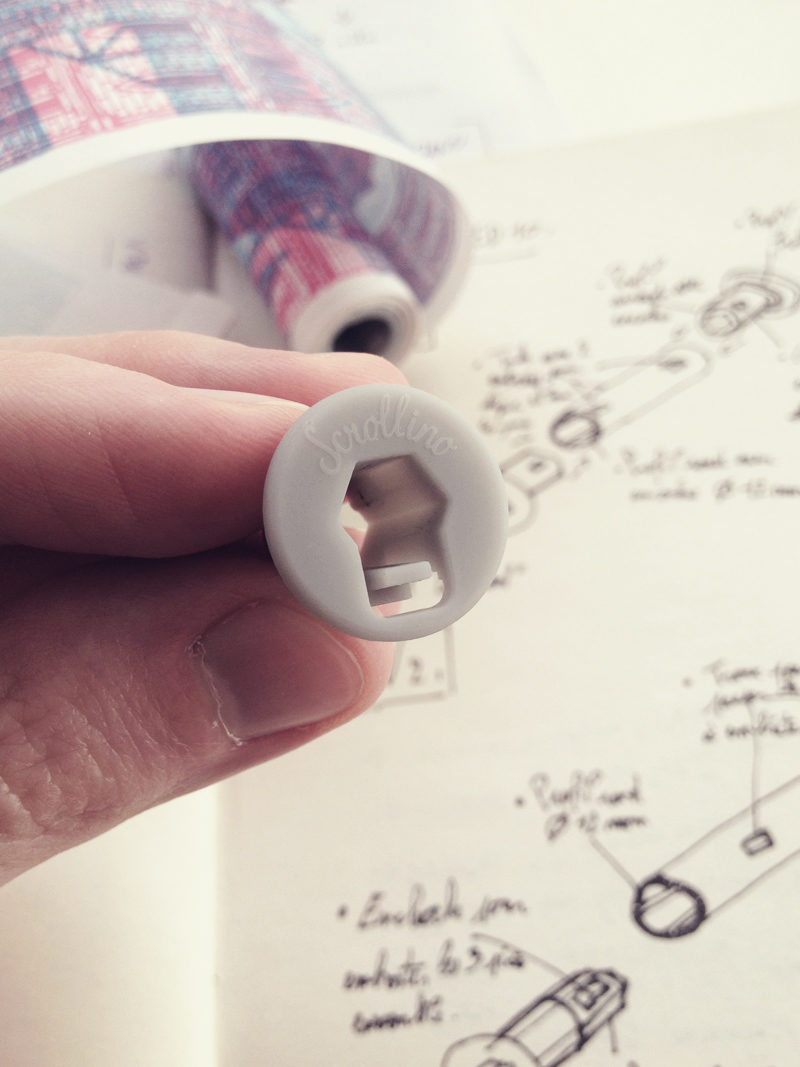 Development of the Final Prototype
October – November 2016
The previous tests on 3D printers helped us resolve many technical problems so we could redesign the final shapes and improve the functionality of the Scrollers. The prototype on the photo presents the final version of the Scroller, compatible with most pencils and pens and offering the possibility of refilling the Scrollino by a new paper roll.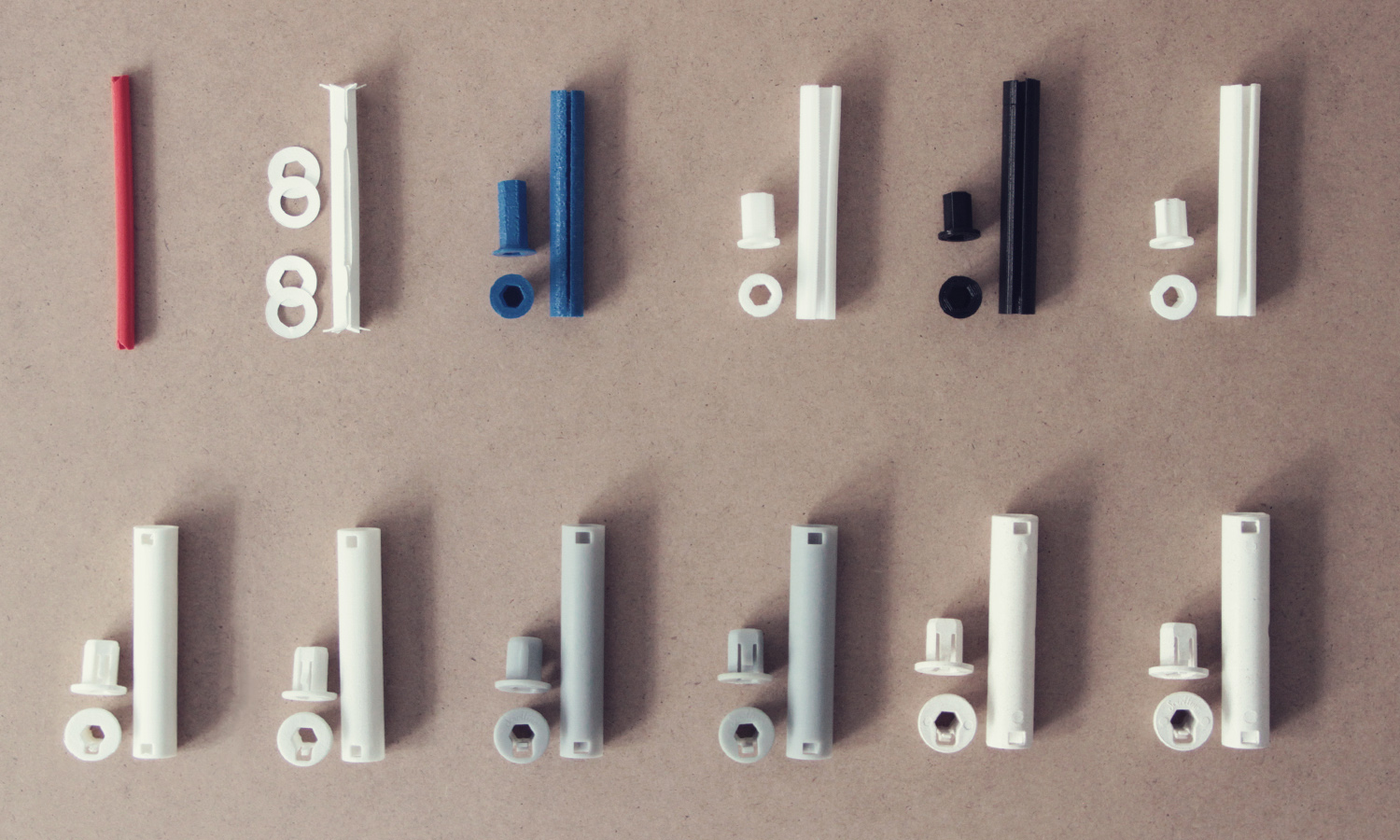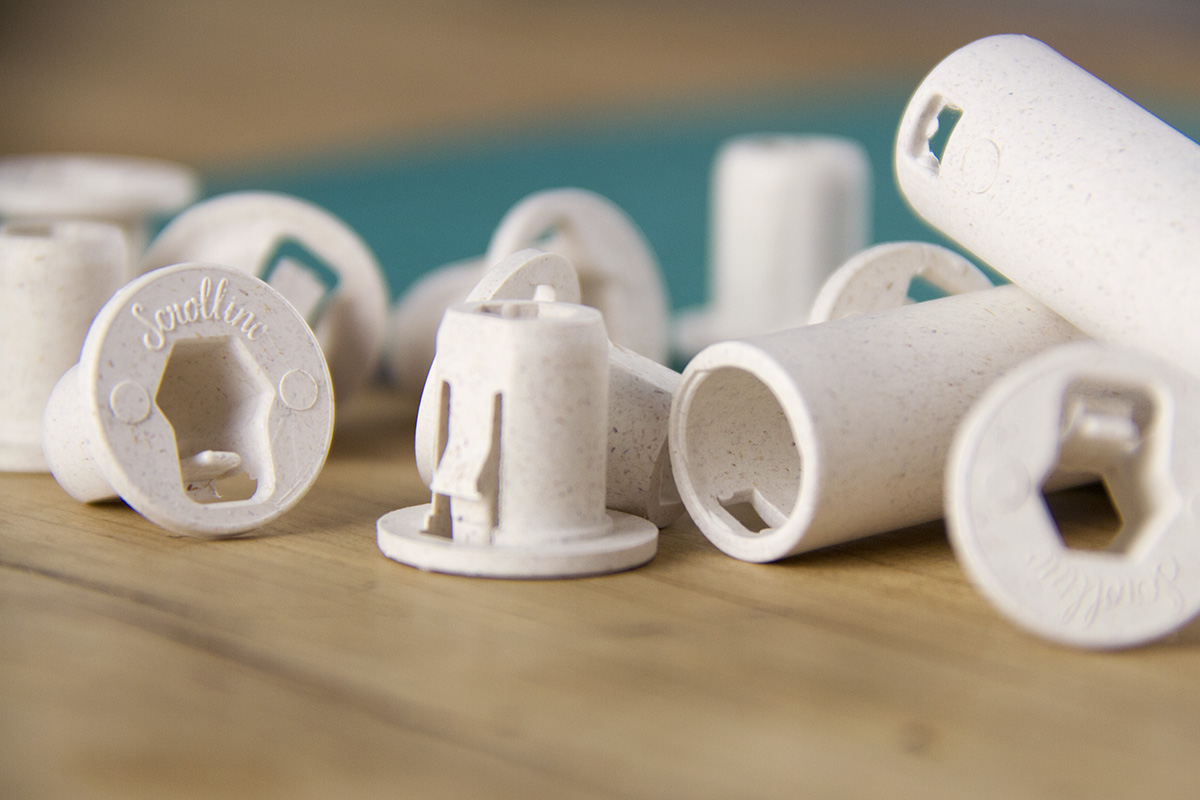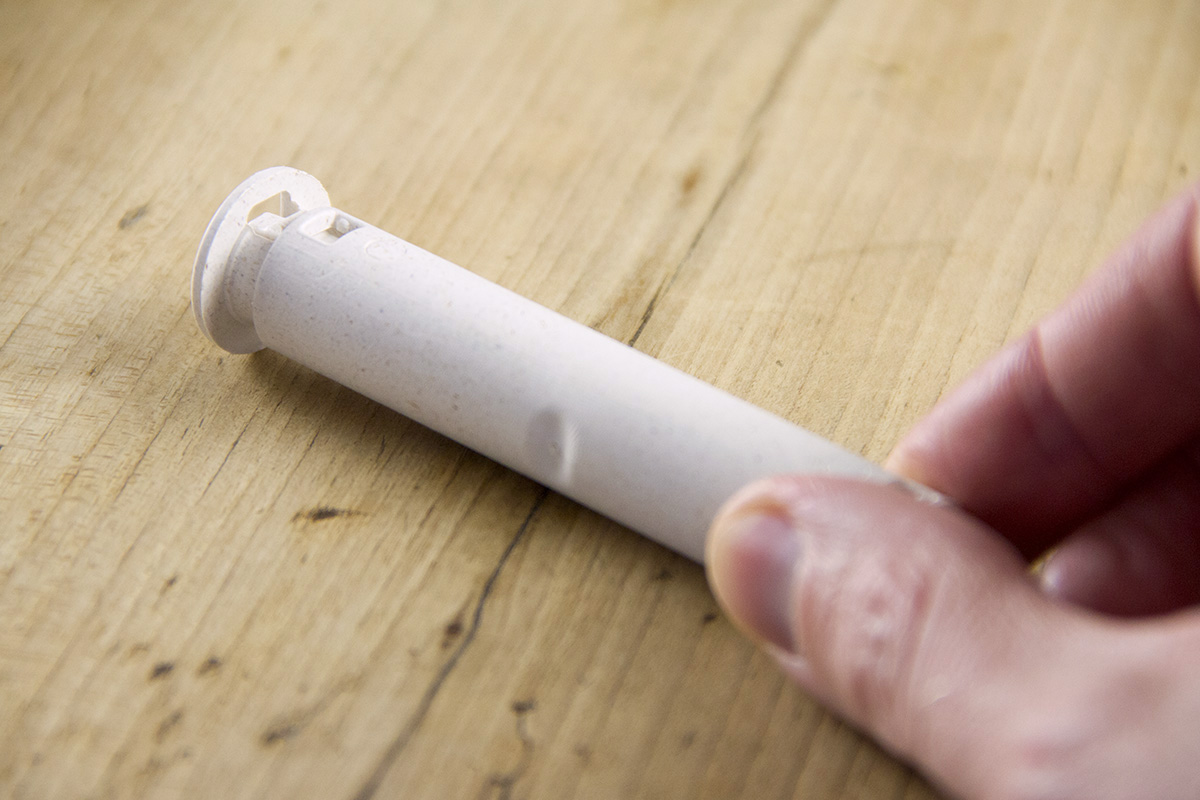 Evolution of the Scroller
Here you can see, how the design of the Scroller evolved during 9 months of a very intense creative and technical research. Finding the liquid wood producer in France was a breakthrough in the development of our Scrollers. Made from recycled wood and paper, this material fits perfectly with our sustainability standards, as the Scrollers are fully degradable in nature (compostable). Nowadays, our Scrollers are molded in France.
The Invention of Scrollinography™
Continuous,
Unlimited,
Unique…
Stationery, For Kids, Stories and more
Scrollinography™ is a unique printing technique developed by Ludmila & Sylvain Favardin in order to print uninterrupted endless images in black and white or even in color. Our technique enables us to print from 1 to many copies of stories or whatever we wish to try out on our custom made paper rolls. Any length is possible, so we can even print miles (km) of stories.
How do we print so long of a story in the Scrollino? The answer is naturally: with Scrollinography™. However, it was not possible until we invented it. As you may have discovered above, we first started to experiment with thermal POS Printers (point of sales) to print and publish several yards (meters) long illustrated books in black and white. Our first Scrollino were printed on thermal papers using this technique via our own printing software.
After our pre-launch Scrollino® exhibition, we fully understood the creative potential of our media. We decided to go even further: to give the artists and the readers also a colorful experience and to achieve printing of continuous images (illustrations and texts) without any visible interruptions (blank space). We realized, the technology does not exist and no printing house in the world would be able to produce it in the quality we needed.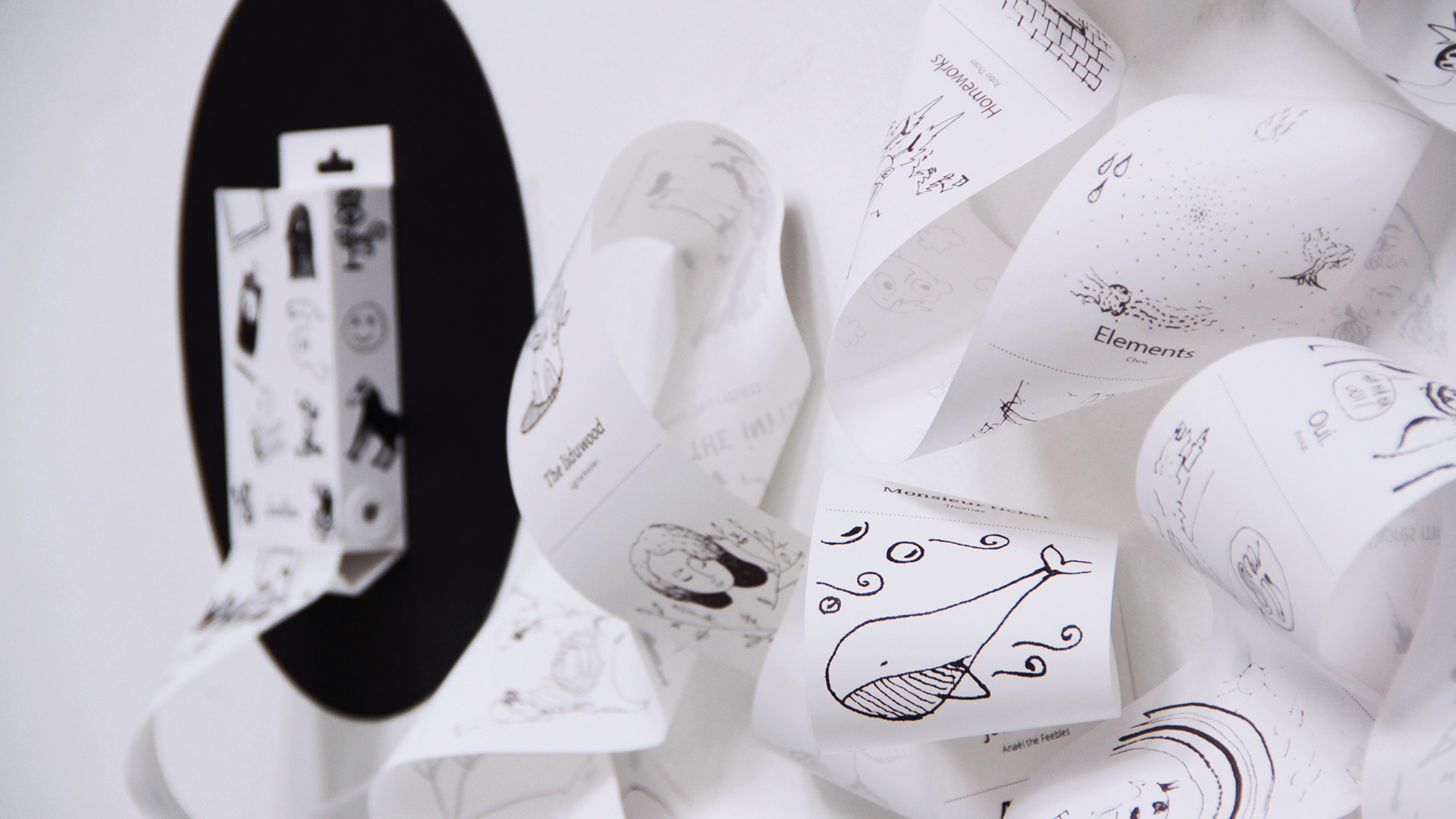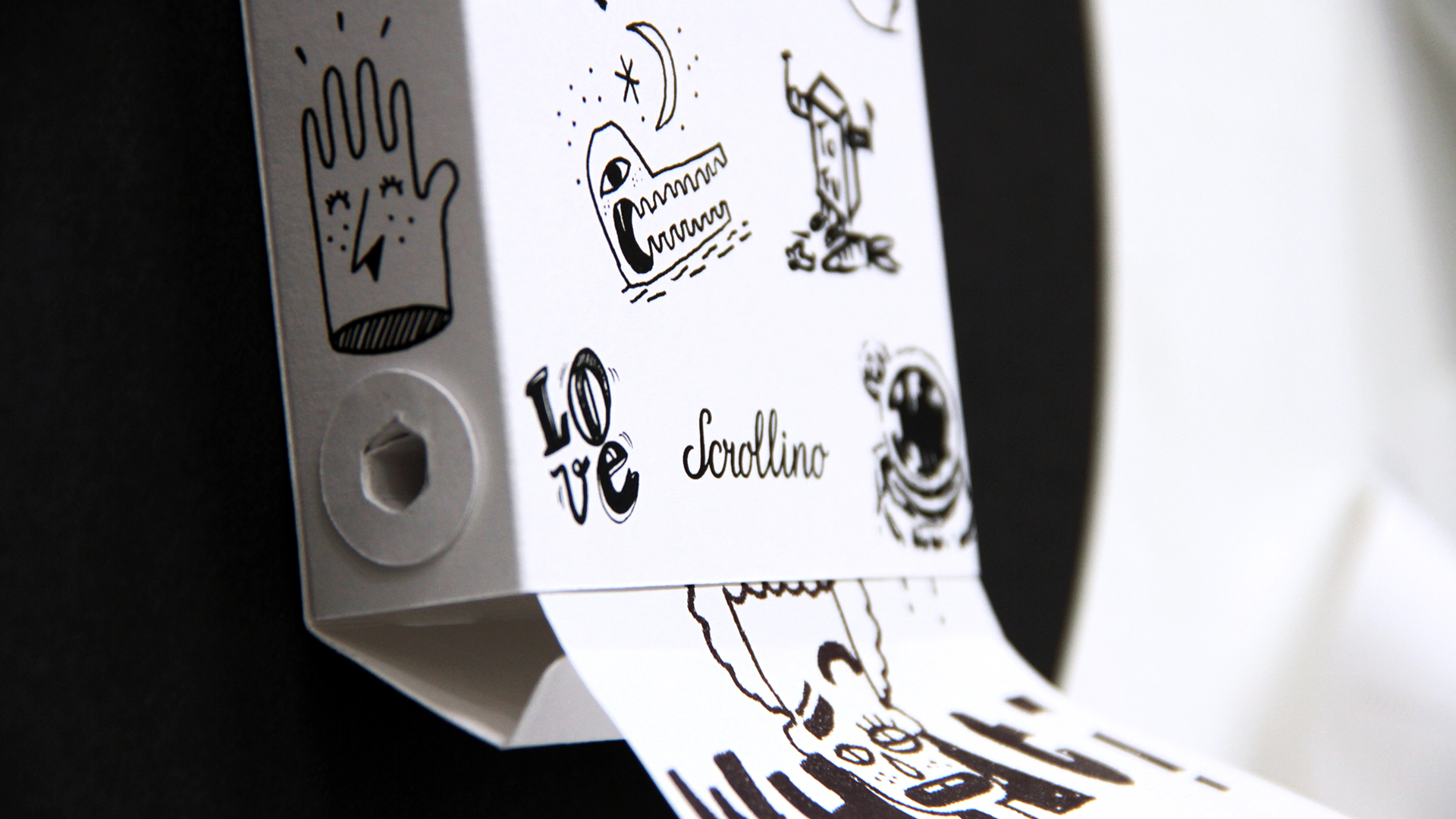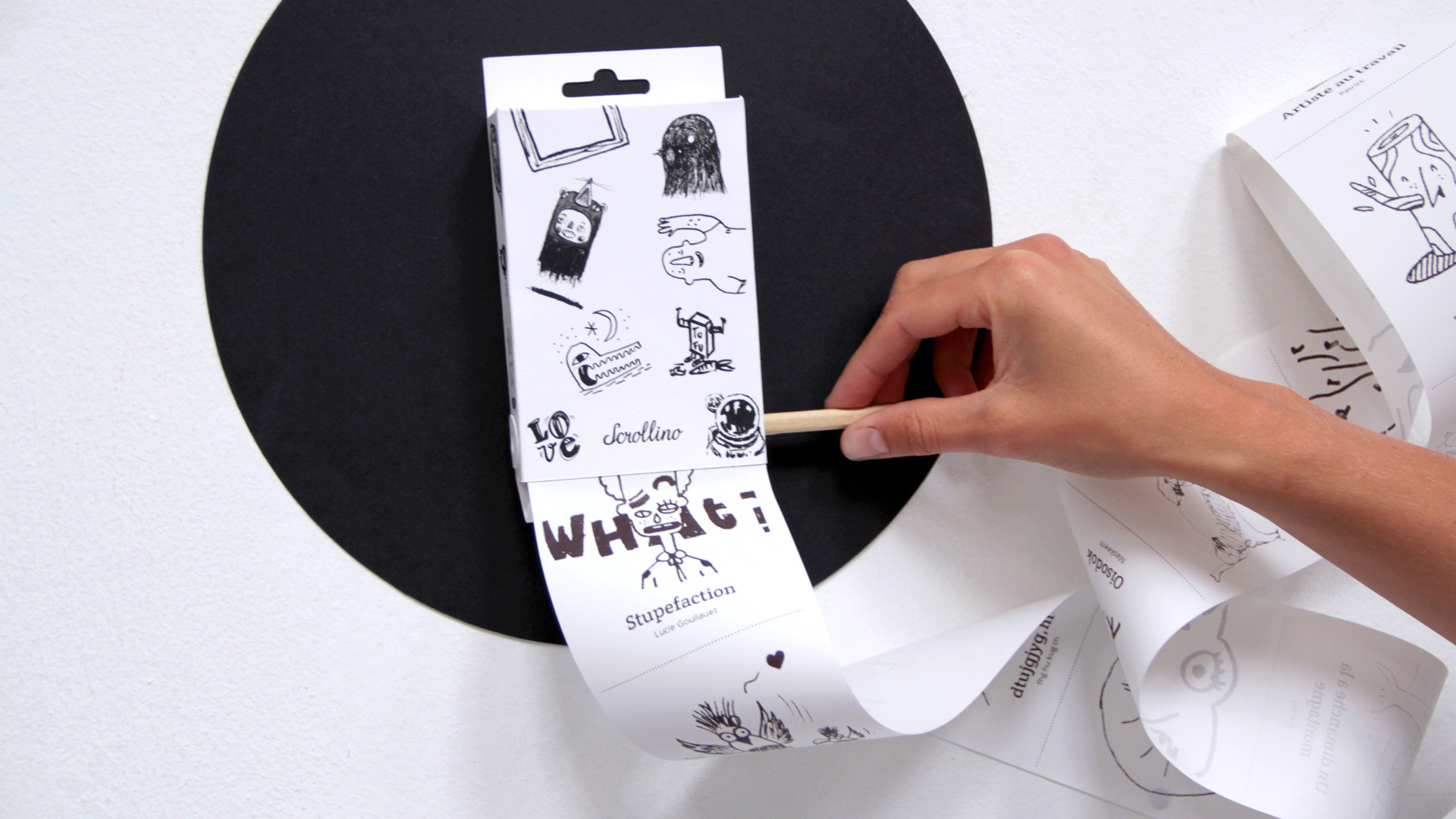 The Worlds Longest Live Printed Book
Milan Design Week in April 2014
During our worldwide exhibitions and workshops, artists, designers, children and curious adults were drawing their illustrations to become part of the World's Longest Live Printed Book. The Book with over 450 illustrations was printed on one piece of paper and is 48 meters long. No bpa and no ink was used to print this book, that makes this printing process very environmentally friendly!
What is Scrollinography™
A revolutionary printing technique
Scrollinography™ is a unique printing technique developed by Ludmila & Sylvain Favardin in order to print uninterrupted endless images in black and white or even in color. Our technique enables us to print from 1 to many copies of stories or whatever we wish to try out on our custom made paper rolls. Any length is possible, so we can even print miles (km) of stories.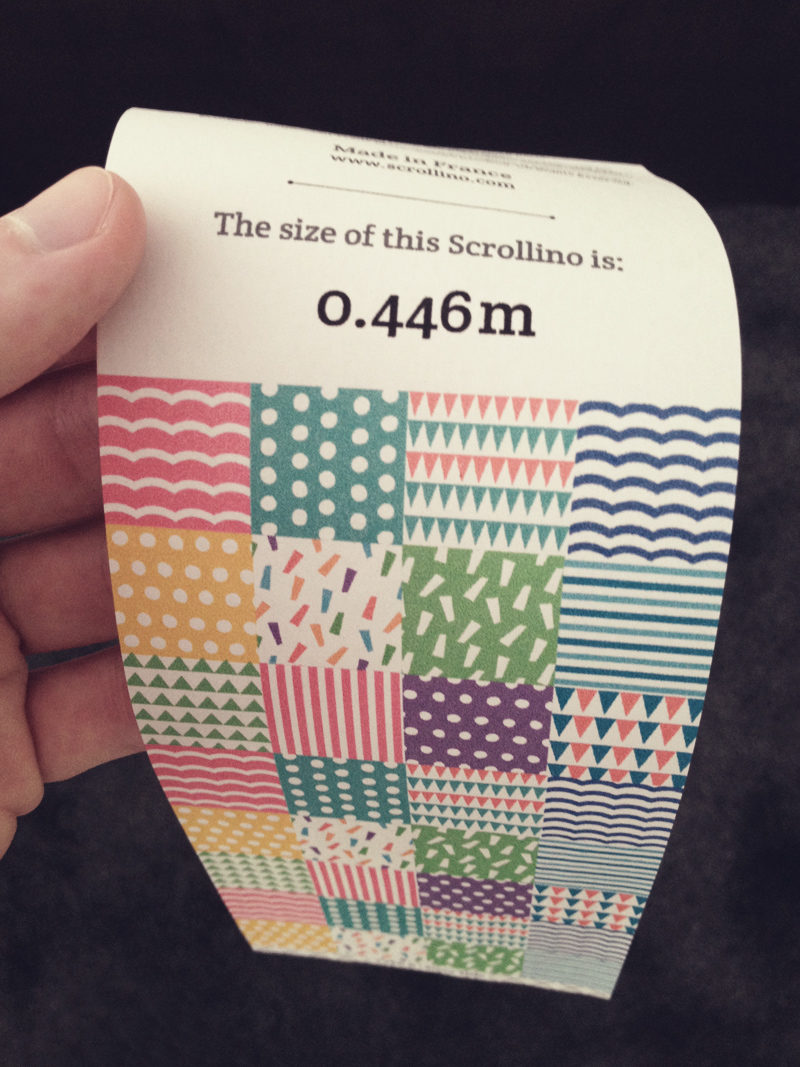 1st Scrollino ticket printed in color
July 2016
Until June 2016 Scrollino® paper rolls were only available in black and white (inside content, the covers were in color) as no color technique existed. We started to develop our new technique in July by combining existing machines and printing techniques with our own printing driver and software.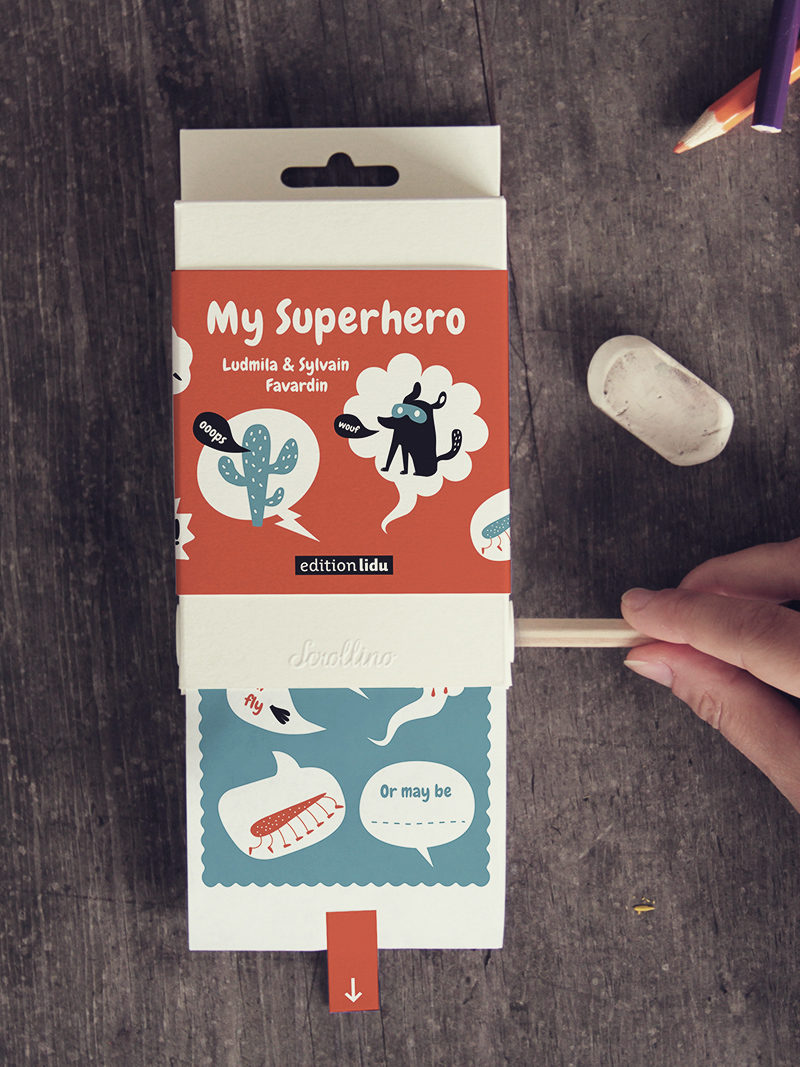 1st color Scrollino published
September 2016
Our first Scrollino® printed in color was the activity Scrollino My Superhero published on the occasion of the Comic Strip Festival in September 2016. During the festival, we also presented our editorial concept and printing technique during the festival's conference. You can find a new edition of this Scrollino in our Online Shop.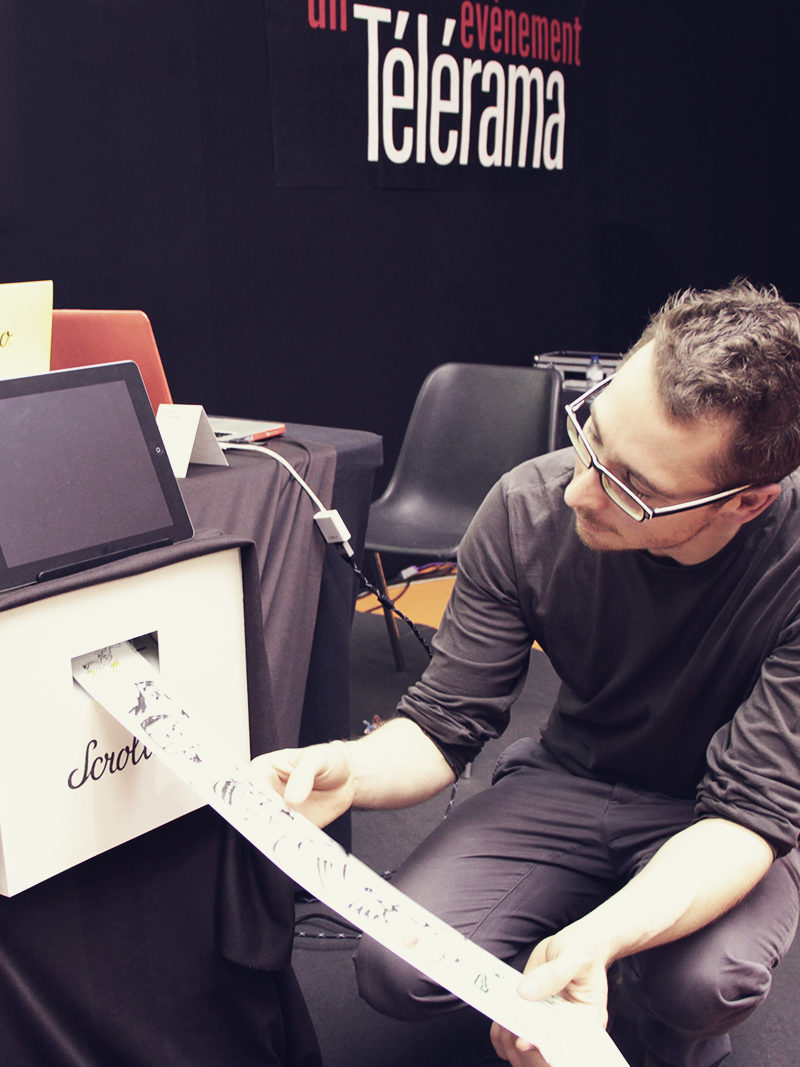 Scrollinography™ Live Performance
January 27, 2017
On January 27, 2017 we showed off the Scrollinography printing in a live public event for the first time. It was during our Scrollino Battle – an encounter between the Scrollino, the new book concept and a graphic art improvisation, organized on the occasion of the International Comics Festival Angouleme (FIBD) 2017, one of the biggest comics festival in the world.
The Pre-Launch of Scrollino®
In the mid-2016 we were in the process of designing the scrollers and resolving thousands of challenging technical questions that Scrollino® brought on the table. And right in the middle of these moments, we've got the opportunity to present an exhibition at a famous and highly visited art space Le Lieu Unique in Nantes, France.
Well, we took the challenge and curated, designed and organized the first Scrollino exhibition asking over 30 artists to create stories, comics or illustrations using our new art medium and the possibilities of the thermal POS printing technique. The Opening night was a great delight, everybody was excited about Scrollino, so we knew we are on the right track.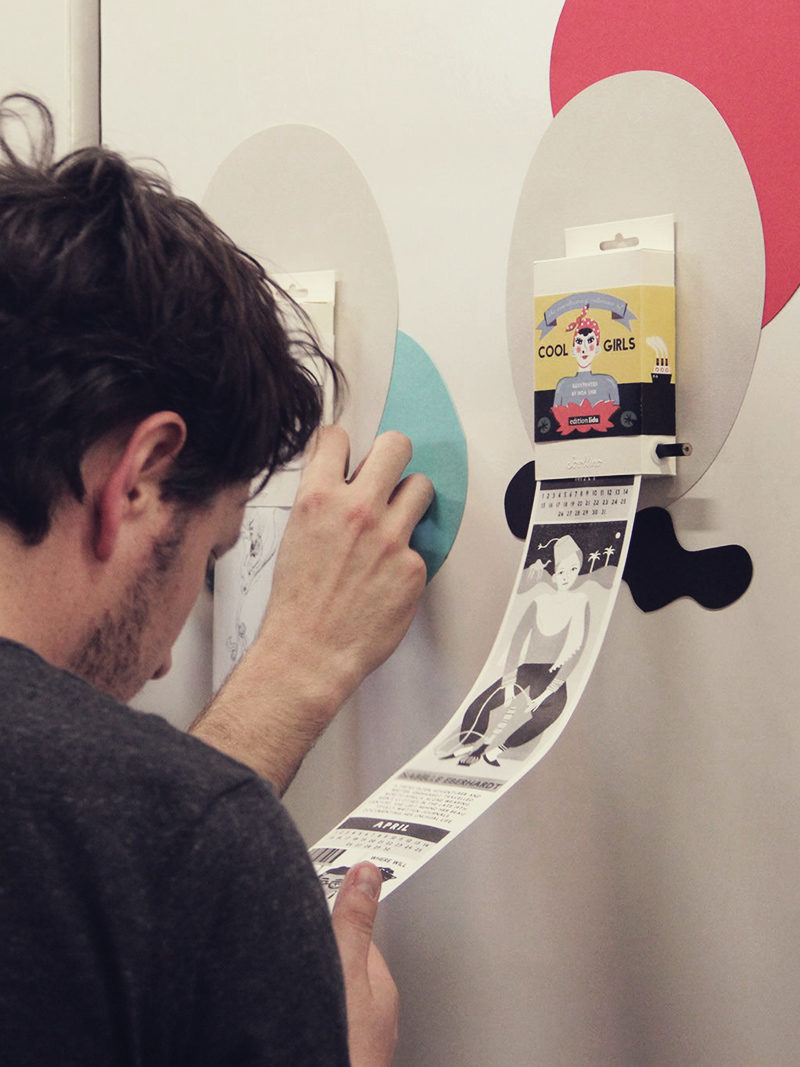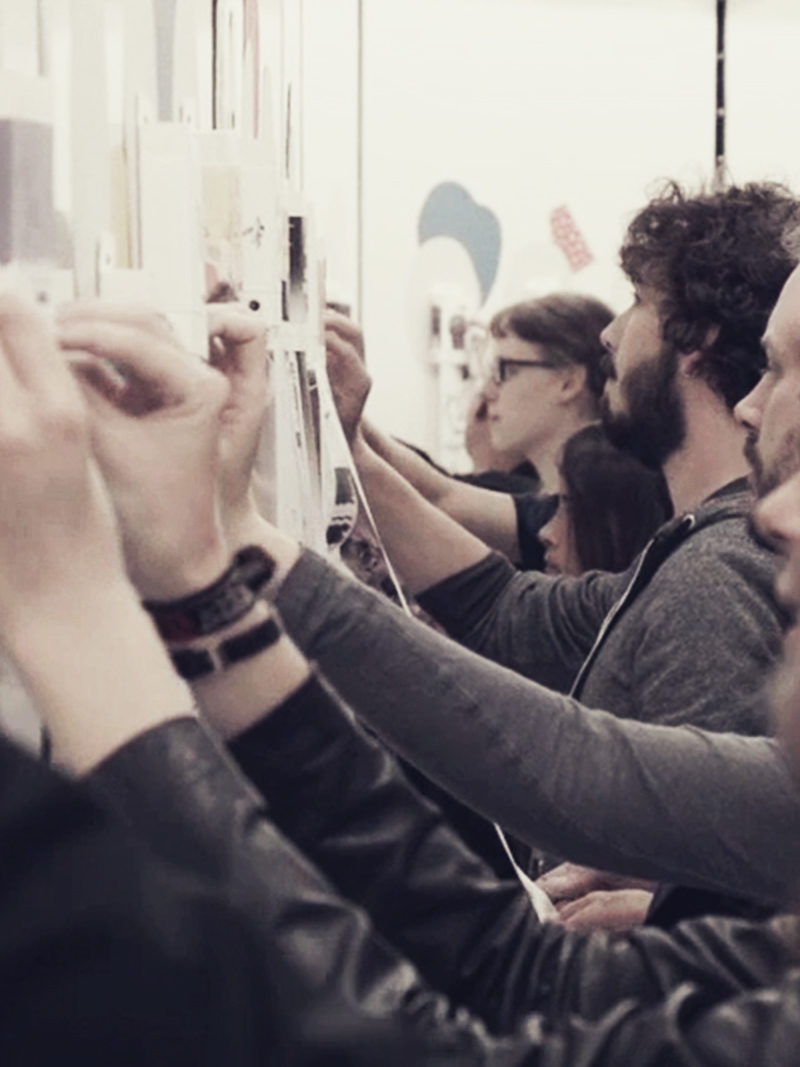 First Scrollino®
Exhibition
June 30, 2016 – July 31, 2016, France
The exhibition at the Le Lieu Unique (France) showcased over 30 artists and their works created especially for our new Scrollino® concept. For this special occasion, we have prepared full accompanying programme, with a guided tour, artists meetings, and workshops. During the month of the exhibition we received a fantastic feedback from the visitors both the general public and professionals, we were encouraged to continue working to bring Scrollino to perfection.
Scrollino® Redesigned to Perfection
Unroll it,
Enjoy it,
Rewind it!
Scrollino® Production Process
Designing the Quality
We designed every aspect of the production process and the Scrollino® itself to be independent in the production. Nowadays, we use our own technology that allows us to print and produce any desired number of copies, starting from 1 copy which makes Scrollino® a perfectly customizable product. It is great for improving our new collections before printing many copies.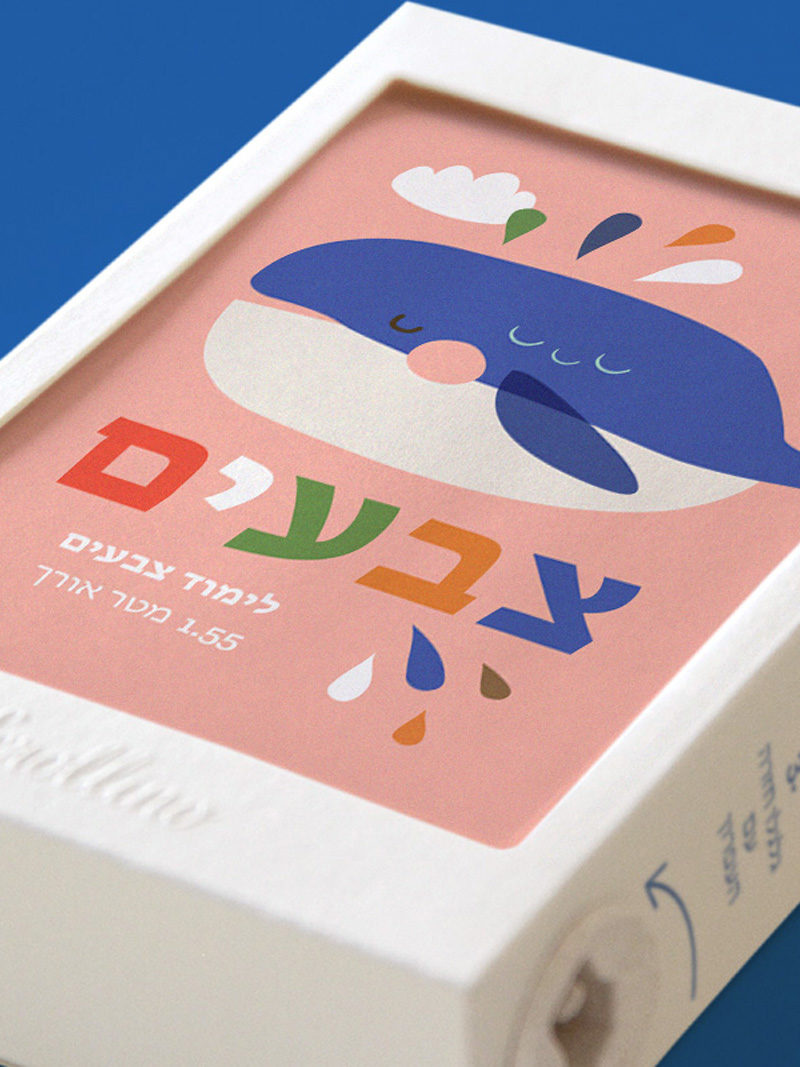 Custom-Made Scrollino®
B2B, Packaging, Events and more
We use our own full-color printing technique Scrollinography™ and die cutting machine, so the possibilities are just as endless as the Scrollino® itself! You can communicate your brand, pack small products or samples, create elegant brand stationery and offer unique corporate gifts. If you are interested in this side of Scrollino®, please read more here.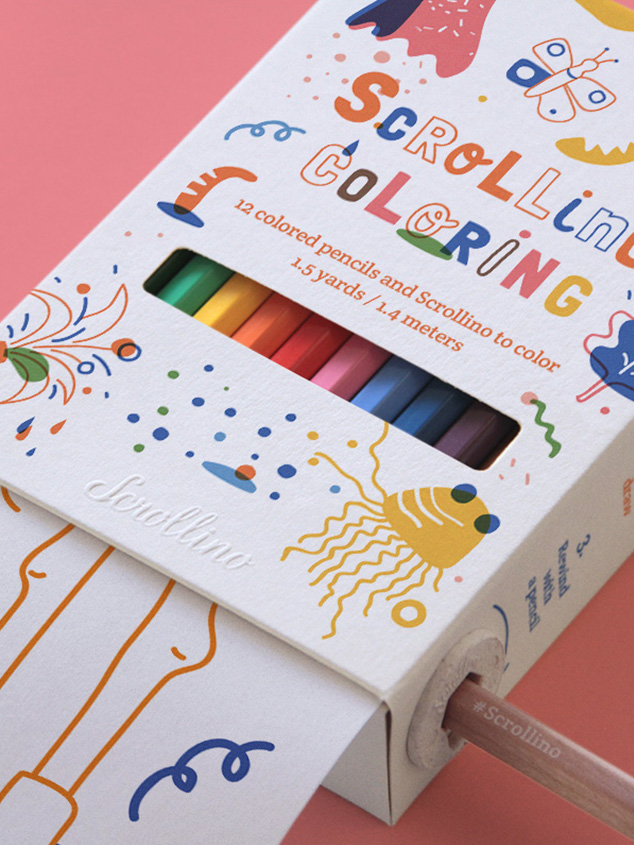 HIGH-QUALITY MATERIALS
Organic & Sustainable
All our Scrollino® are carefully crafted in our studio. The human touch is infused in each fold of the box, in the assembly of the Scroller, in the embossing on the cover. We use high-quality sustainable materials. Our paper and cardboard are produced by FSC certified manufacturers. The Scrollers are made of recycled liquid wood.
Scrollinography™
Since July 2016
In 2016 we re-invented the printing method and selected the best papers to print on. We baptized our new technique Scrollinography™. This technique allows us to print uninterrupted endless images, stories or games in color. Plus, the pigment we use is non-toxic and environmentally-friendly. Read more about the materials & sustainability.
Scrollino®
International
Launch
Our official French launch at the International Comics Festival Angouleme (FIBD) in January 2017 was followed by a world launch at the Milano Design Week in April 2017. We were blessed enough to present Scrollino in the very prestigious Zona Tortona design district – a place where designers, art directors, curators, company owners and the general public come to discover the most innovative projects that will remarkably influence the world of design.
View our latest news
We created a simple and interactive tool that inspires and develop the creativity and imagination of everyone, but also introduce reading to Kids without having to use a technological medium; while keeping in mind to create the most eco-friendly product possible! We take a lot of joy to come with new ideas for Scrollino®.
We use Scrollino in many creative ways, so each of Scrollino offers a little bit different experience. Are you searching for original stationery, inspiring stories, fun activities or games? Scrollino can offer it all. Please visit our Online Shop to discover individual Scrollino in more detail.
Our latest
Scrollino®
Collections
Stationery, For Kids, Stories and more
Beautifully illustrated Scrollino® Collection IN THE ZOO is a perfect tool for the development of fine motor skills of your little ones. Scrollino® awakes curiosity and imagination, it invites kids to learn by playing, discovering, and having fun. Available in English, French and other languages.
Discover now!
Scrollino®
Created by Ludmila & Sylvain Favardin
Scrollino® is the revolutionary book form and editorial concept offering a playful experience to all dreamers big and small. A simple pencil is all you need to read, rewind, or even to write in your Scrollino®.
Dreamed up and created by the founding artists of Edition Lidu, Ludmila & Sylvain Favardin.
Vad är fördelarna med att köpa receptbelagda läkemedel på internet?
Ett onlineapotek, eller helt enkelt postorderapotek, är ett privat apotek som arbetar via Internet och levererar beställningar till kunder via post, frakttjänster eller apotekets webbportal. Under de senaste åren har många nätapotek dykt upp. Det är apotek som arbetar med en rad olika filosofier. En del av dem erbjuder rabatterade läkemedel, en del erbjuder pengarna-tillbaka-garantier på receptbelagda köp och andra säljer helt enkelt samma slags varor som deras mer traditionella motsvarigheter, som varuhus. Det finns dock en sak som alla nätdrogerier har gemensamt: de måste få FDA (Food and Drug Administration) godkännande för att få sälja de produkter som de gör. Så vad är det som är så viktigt med att få ett onlineapotek FDA-godkänt?
Sanningen är att majoriteten av onlineapotek titta på det här är legitima företag. Men det finns säkert skumma aktörer där ute som vill utnyttja människor genom att sälja receptbelagda läkemedel utan FDA-godkännande. Det är därför du bör ta dig en stund för att leta efter vissa saker innan du beställer någon medicin från ett onlineapotek. Bara för att en webbplats ser professionell ut betyder det inte alltid att den är legitim. Det finns också några saker du kan göra för att se till att du beställer från en legitim källa.
Ett av de enklaste sätten att försäkra sig om att ett företag är legitimt är att använda företagets egna kontaktuppgifter. Om webbplatsen inte listar ett telefonnummer, en e-postadress eller en fysisk plats för verksamheten vet du att företaget inte är giltigt. Om du har några som helst tvivel om legitimiteten hos ett visst onlineapotek rekommenderas det starkt att du helt enkelt går vidare till nästa på din lista. Det är inte bara bättre för din säkerhet att hålla dig borta från någon som kanske säljer förfalskade eller bedrägliga receptbelagda läkemedel, utan det är också olagligt att sälja läkemedel utan ett giltigt recept.
En annan sak du kan göra för att vara säker på att du endast köper legitima produkter är att söka efter internetapotekets logotyp. Det finns webbplatser där du kan skriva in ditt namn och ditt recept, och om du hittar en webbplats med den logotypen kan du vara säker på att webbplatsen är legitim. Förutom att hålla koll på webbplatser som kan sälja bedrägliga produkter kan du också hålla koll på webbplatser som endast marknadsför de bästa läkemedelsmärkena som finns tillgängliga. Genom att använda logotypen för internetapotek för att låta konsumenterna veta att ett företag är trovärdigt, bidrar du till att säkerställa att endast de bästa produkterna för dina behov säljs.