Budwarrior
Story and illustrations
Travel with the brave dog Polder over 6 feet of field and forest as he meets cosmic monkeys, the Agoulous. Will the monkeys welcome him with open arms, or chase him away with tooth and nail? And what will become of Polder's owner back at the house? Budwarrior's bright colors and creative scenes take the reader on a wild ride of discovery and adventure.
Double Scrollino®
Interactive and user-friendly
Double Scrollino® operates like a magic paper movie reel. To discover the story, all you have to do is turn the pencil in the Scrollers. Double Scrollino® has a dual-rewinding system, a Scrollino box with a "viewing screen," and a paper roll printed with stories or illustrations..
1. Reveal the Story
Designed for simplicity
To start enjoying this Scrollino, insert a pencil or similar object in the top scroller and turn it clockwise to start viewing the story.
2. Discover the Scrollino
2.15 yards / 1.97 meters to reveal
Storytelling by the Foot: Experience the Scrollino concept, a revolution for reading. In the Scrollino Polder chez les Agoulous, meet strange and new characters and discover a hidden world in the forest.
3. Rewind with a pencil
Pencil included
Each Scrollino comes with a wooden pencil. The Scroller works with most standard pens and pencils (hexagonal, rounded, triangular, etc.). If you don't have any handy, check your kitchen drawers or toolbox!
High-quality Materials
Organic and sustainable
Scrollino Box: Colorplan Natural
FSC certified, natural feel acid-free heavyweight paper 130lb / 350gsm
Paper Roll: Custom-made paper
Scroller: Recycled liquid wood, 100% compostable
Scrollino Pencil: Natural wood
About the artist
Polder by Budwarrior
Budwarrior took part in our first Scrollino Battle held at the International Comic Festival Angouleme 2017, out-writing and out-drawing his opponents to win the tournament. His prize for winning the battle was the opportunity to create his own Scrollino story. And so his original character Polder the brave dog found himself the star of his own adventure.
Human touch
Handcrafted and specially designed
The reader's touch makes the magic happen. How? Through the specially designed Scrollers conceived and invented by Ludmila & Sylvain Favardin, which allows the readers to scroll through the story. You can feel the high-quality craftsmanship in each fold of the box, in the assembly of the Scroller, and in the embossing on the cover..
Scrollinography™
A revolutionary printing technique
In order to produce Scrollino®, we have invented our own printing technique – Scrollinography™. This technique allows us to print uninterrupted endless images in black and white or even in color. So ready yourself for longlasting fun!
The brave dog Polder leaves home and has a strange encounter with the cosmic monkeys of the forest, the Agoulous.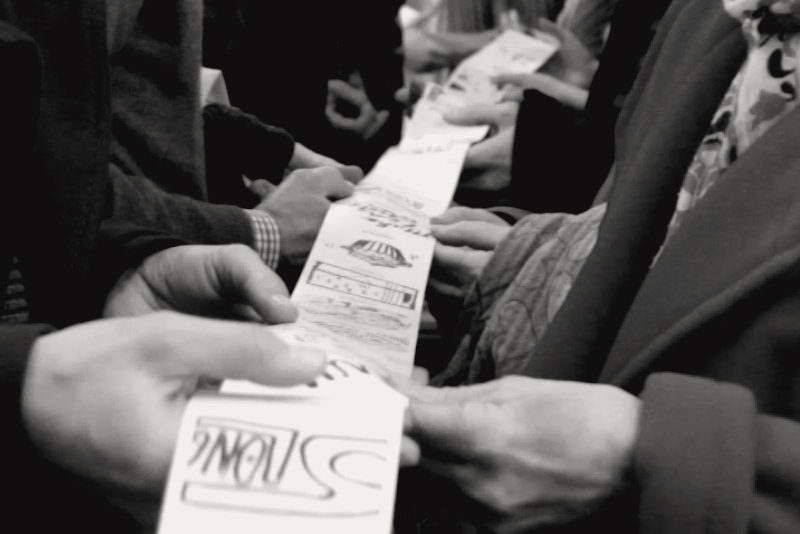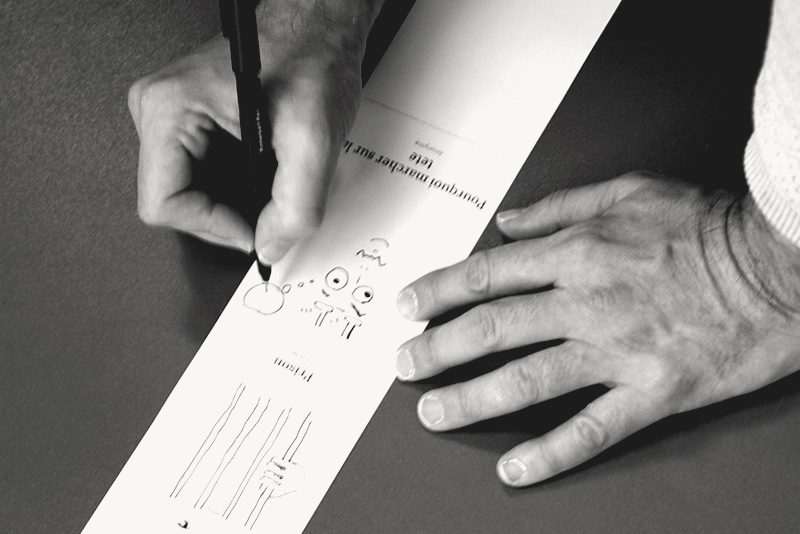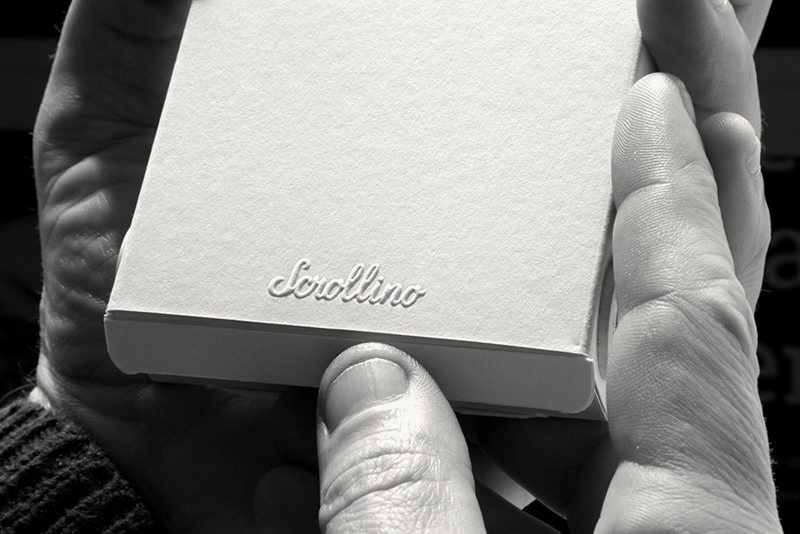 For more interactive experience with Scrollino® go on a computer.