Janus Ojjo
Story & Illustrations
The Lieu Unique ("Unique Place") reinvented by Janus Ojjo, is the former cookie factory of the renowned French company LU turned contemporary art space. This wordless Scrollino elegantly offers over 8 feet of a playful and surreal reading experience.
Scrollino®
Interactive and user-friendly
Scrollino® consists of a unique rewinding mechanism (The Scroller), a Scrollino box, and a paper roll to unwind at your own pace. With each Scrollino comes a natural-wood pencil that makes the magic happen and helps the user to rewind the paper.
1. Pull on the tab
Designed for simplicity
To open the Scrollino simply pull on the tab (Paper Lip) to reveal the story. The Paper Lip not only protects the paper roll, it also serves to prevent the paper from disappearing once you rewind your Scrollino.
2. Discover the Scrollino
2.65 meters / 2.90 yards to unroll
Storytelling by the Foot: Experience the Scrollino concept, a revolution for reading. In the Scrollino LU rewind the clock to when art was drawn by hand and lose yourself in the world created by Janus Ojjo.
3. Rewind with a pencil
Pencil included
Each Scrollino comes with a wooden pencil. The Scroller works with most standard pens and pencils (hexagonal, rounded, triangular, etc.). If you don't have any handy, check your kitchen drawers or toolbox!
High-quality Materials
Organic and sustainable
Scrollino Box: Colorplan Natural
FSC certified, natural feel acid-free heavyweight paper 130lb / 350gsm
Paper Roll: Custom-made paper
Scroller: Recycled liquid wood, 100% compostable
Scrollino Pencil: Natural wood
About the artwork
LU by Janus Ojjo
Janus Ojjo, the author of the Scrollino LU, is a French artist working with only hand-drawn illustrations. One of his ongoing projects is a study of the facades of French cathedrals. Scrollino gave him the means to exceed the boundaries of a sheet of paper to run the lengths of his imagination.
Human touch
Handcrafted and specially designed
The reader's touch makes the magic happen. How? Through the specially designed Scroller conceived and invented by Ludmila & Sylvain Favardin, which allows the readers to scroll through the story. You can feel the high-quality craftsmanship in each fold of the box, in the assembly of the Scroller, and in the embossing on the cover.
Scrollinography™
A revolutionary printing technique
In order to produce Scrollino®, we have invented our own printing technique – Scrollinography™. This technique allows us to print uninterrupted endless images in black and white or even in color. So ready yourself for longlasting fun!
Take a surreal journey through the reimagined LU cookie factory! Can you find the hidden images?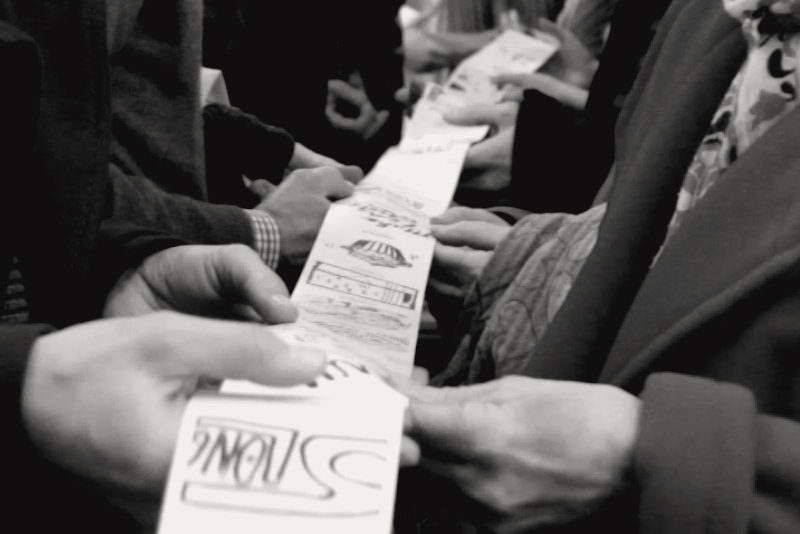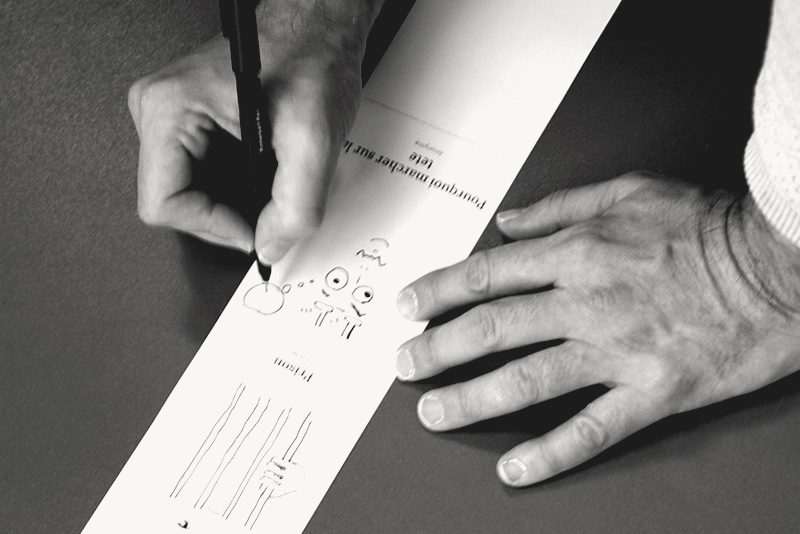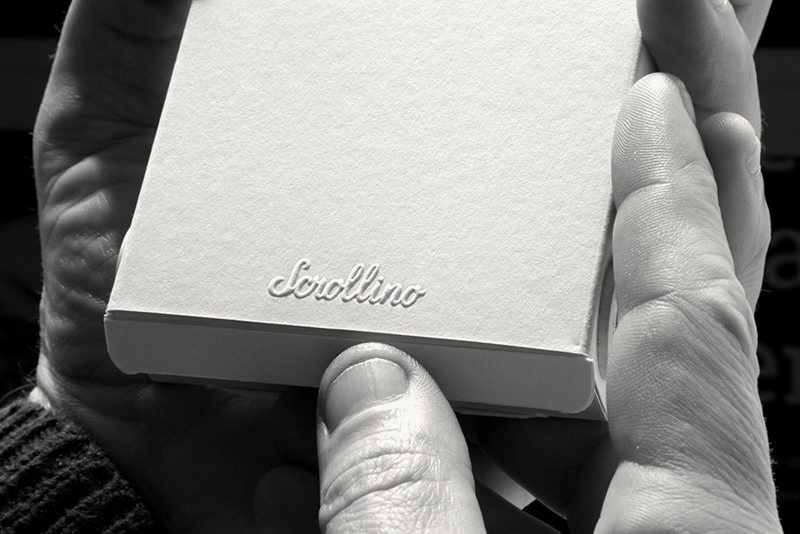 For more interactive experience with Scrollino® go on a computer.