Ludmila & Sylvain Favardin
Concept and design
This is a Limited Edition reprinting of the Scrollino® Battle held at the 44th Angoulême International Comics Festival on January 27, 2017 in France. Four masked French writers and artists – the Scrolliners – competed with words and images to see who would come out on top. This Scrollino® Battle collects the writings of all participants: Bud Warrior, Tomazinho, L'Eskimo Skizo, and La rouquine Carmélite.
Language
Limited Edition
Publication
Scrollino®
Interactive and user-friendly
Scrollino® consists of a unique rewinding mechanism (The Scroller), a Scrollino box, and a paper roll to unwind at your own pace. With each Scrollino comes a natural-wood pencil that makes the magic happen and helps the user to rewind the paper.
1. Pull on the tab
Designed for simplicity
To open the Scrollino simply pull on the tab (Paper Lip) to reveal the story. The Paper Lip not only protects the paper roll, it also serves to prevent the paper from disappearing once you rewind your Scrollino.
2. Discover the Scrollino
3.28 yards / 3 meters
Storytelling by the Foot: Experience the Scrollino concept, a revolution for reading. In the Scrollino® Battle discover the short texts written within the tough constraints of a live writing battle. Scrolliners had only 8 minutes to create something that fit within an 8cm by 50cm space (3.1" by 19.7").
3. Rewind with a pencil
Pencil included
Each Scrollino comes with a wooden pencil. The Scroller works with most standard pens and pencils (hexagonal, rounded, triangular, etc.). If you don't have any handy, check your kitchen drawers or toolbox!
High-quality Materials
Organic and sustainable
Scrollino Box: Colorplan Natural
FSC certified, natural feel acid-free heavyweight paper 130lb / 350gsm
Paper Roll: Custom-made paper
Scroller: Recycled liquid wood, 100% compostable
Scrollino Pencil: Natural wood
About the Scrollino Battle
Compiled drawings
Over the course of an hour at Angouleme, four Scrolliners gathered to show off their creative skills in a high-energy atmosphere. For each match they received a prompt to include any way they wanted. A surprise challenge later obliged the Scrolliners to pick up and continue their opponent's story partway through.
Human touch
Handcrafted and specially designed
The reader's touch makes the magic happen. How? Through the specially designed Scroller conceived and invented by Ludmila & Sylvain Favardin, which allows the readers to scroll through the stories. You can feel the high-quality craftsmanship in each fold of the box, in the assembly of the Scroller, and in the embossing on the cover.
Scrollinography™
A revolutionary printing technique
In order to produce Scrollino®, we have invented our own printing technique – Scrollinography™. This technique allows us to print uninterrupted endless images in black and white or even in color. So ready yourself for longlasting fun!
Read the stories from the Scrollino® Battle written, drawn, and printed live in front of a live audience at Angouleme 2017.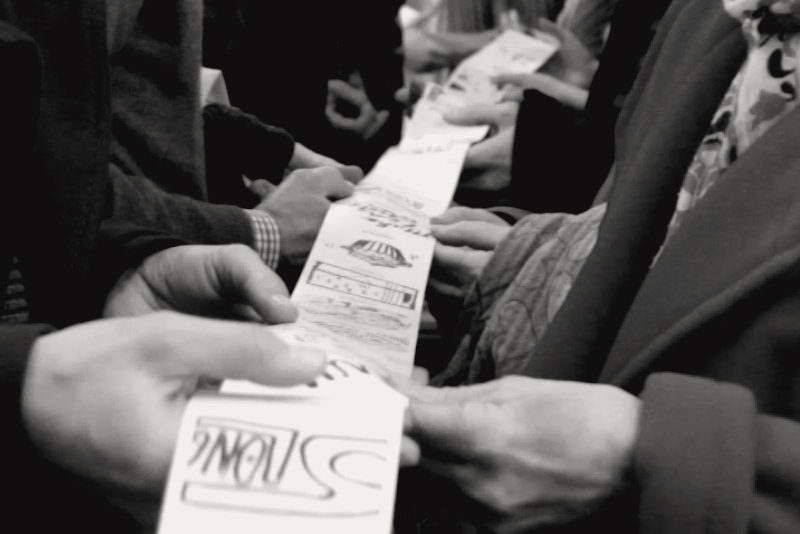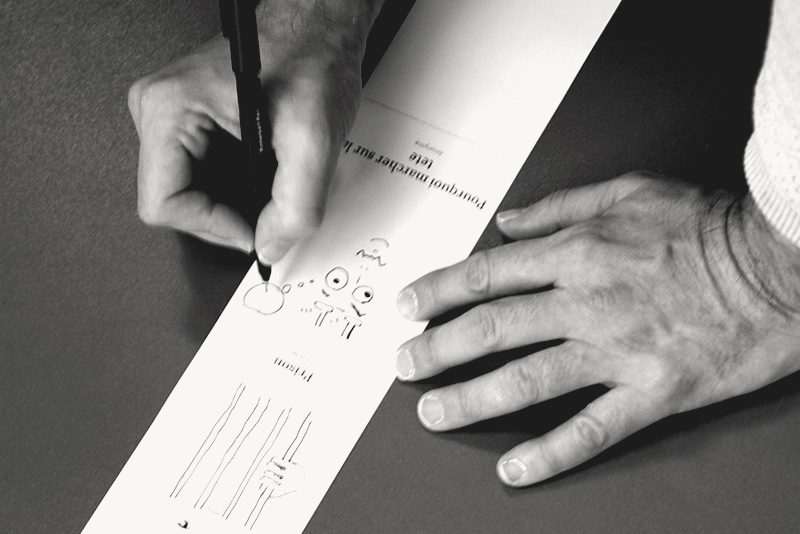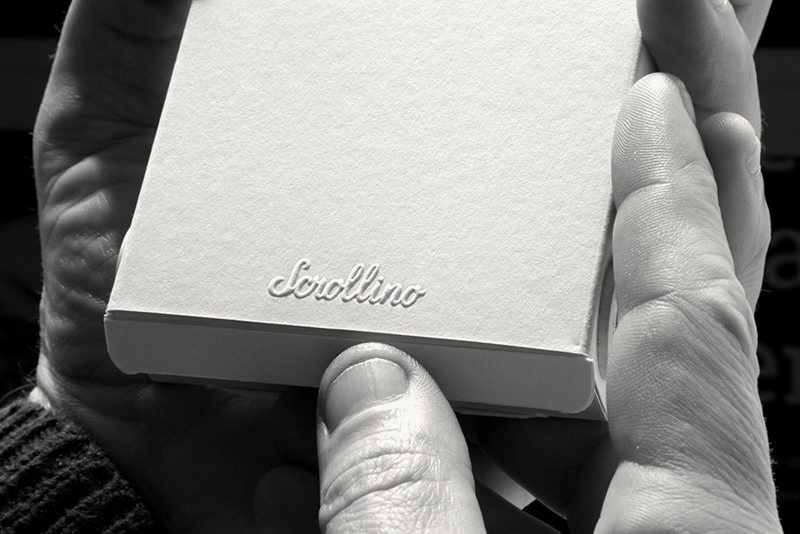 For more interactive experience with Scrollino® go on a computer.